New car registrations for May were down by 89 per cent with just over 20,000 cars registered in the month.
Some 163,477 fewer cars were registered compared to the same month last year – the lowest since May 1952.
The overall market is now down 51.4 per cent in the first five months of 2020, at just over half a million registrations compared with more than one million at this point last year.

The Tesla Model 3 was again the best-selling car in May with 852 sold, followed by the Vauxhall Corsa (790) and Ford Fiesta (760).
In April, new car sales fell a whopping 97.3 per cent, which wasn't unexpected as dealerships were closed due to the lockdown. Just 4,321 cars were sold.
Mike Hawes, SMMT chief executive, said: 'After a second month of shutdown and the inevitable yet devastating impact on the market, this week's reopening of dealerships is a pivotal moment for the entire industry and the thousands of people whose jobs depend on it.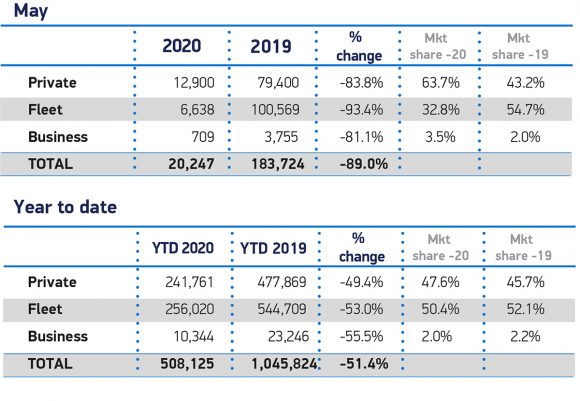 'Customers keen to trade up into the latest, cutting-edge new cars are now able to return to showrooms and early reports suggest there is good business given the circumstances, although it is far too early to tell how demand will pan out over the coming weeks and months.

'Restarting this market is a crucial first step in driving the recovery of Britain's critical car manufacturers and supply chain, and to supporting the wider economy.
'Ensuring people have the confidence to invest in the latest vehicles will not only help them get on the move safely, but these new models will also help address some of the environmental challenges the UK faces in the long term.'
In May some businesses started back up by offering home deliveries and latterly click and collect for customers. This meant some could start registering and delivering cars sold in March and during the lockdown.
'We started to deliver some cars in May but this was towards the end of the month and nowhere near what we would do normally,' said one car dealer boss.
The figures for April and May are largely irrelevant as they do not represent the state of the market – as the SMMT monthly registrations usually do. They are simply telling us what we already knew – that car dealers were closed.
Ian Plummer, commercial director at Auto Trader, said: 'With retailer forecourts across the UK shut for the duration of May it comes as little surprise that we are low on new car registrations.
'Now that retailers in England have reopened there's huge opportunity for the industry to help kickstart the country's wider economy. The market was paused, not stopped. And now, it's clearly restarting.'
Karen Hilton, chief commercial officer at heycar, said: 'There are loud calls for stimulus to drive the industry – such as scrappage schemes – as we move out of lockdown.
'To help guide customer confidence, it would be helpful if the government set out its position on future support for the industry. However, it will take time to agree the detail of this, which doesn't help customers who want a car now or dealers who want to sell cars now.'
James Fairclough, CEO of AA Cars, said: 'The financial uncertainty caused by the lockdown means there is no guarantee that new car sales will recover straight away.
'Many people have either eaten into their savings due to reduced levels of income or still face significant uncertainty about their future job security, potentially putting the brakes on any decision to make a high-value purchase or a long-term financial commitment.'
Alex Buttle, director of Motorway.co.uk, said: 'These figures are exceptional and it's not exaggerating to suggest it's unlikely we'll see monthly new car sales as low as these again in our lifetime.
'The past two months of living on lockdown has given us an interesting insight into the future of car sales, used or old. The surge in buying and selling cars from home will likely result in a seismic shift in the way dealerships retail cars.'
Tesla Model 3 best selling car in April