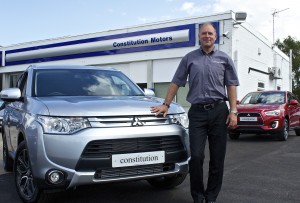 A NEW Mitsubishi dealership due to open in Norwich later this month will become the twelfth dealer to join the franchise since the start of the year.
Constitution Motors will open its doors with Mitsubishi at its long-standing dealership in Constitution Hill on August 26.
The family-run business, established in 1958, is teaming up with Mitsubishi Motors in the UK at an exciting time for the brand. It was the fastest-growing mainstream car brand last year and sales in 2014 are equally impressive, up 32 per cent on 2013.

Managing Director of Constitution Motors, Ian Coates, who took over in 2002, said: 'We are really excited to be joining forces with Mitsubishi and we are sure it will be a great relationship.
'We run our business based on great customer service and pride ourselves on our high levels of customer retention – which we know is central to the Mitsubishi brand.'
The dealership, which employs 22 people including Ian's wife Sue, who runs the aftersales department, and their daughter Emily, a service adviser, will undergo a refurbishment in the coming months.
It has had an ongoing relationship with Norwich City FC for more than 10 years and has previously been an official vehicle supplier to the Carrow Road club.

Lance Bradley, Managing Director of Mitsubishi Motors in the UK, said: 'We are delighted to welcome Constitution Motors to the Mitsubishi family.'
The 12 new dealers in 2014:
Autoecosse Mitsubishi, Dundee (February)
GMD Mitsubishi, Durham (February)
Bishop and Bishop Mitsubishi, Leicester (March)
Premier Automotive Mitsubishi, Rochdale (April)
Charles Warner, Lincoln (April)
Grovebury Mitsubishi, Leighton Buzzard (April)
Midgley Motor Cars, Skipton (June)
Belmont Edinburgh (July)
Seward Mitsubishi, Portsmouth (July)
Lings Mitsubishi, Lowestoft (August)
Jennings Mitsubishi, Middlesbrough (August)
Constitution Mitsubishi, Norwich (August 2014)