FORD has begun production of its all-new, technologically advanced, fuel-efficient petrol engine at its engine plant in south Wales.
The three-cylinder, 1.5-litre EcoBoost engine, which debuts in the multi-award-winning Fiesta ST and all-new Focus, is being built at the state-of-the-art factory in Bridgend following an investment of £100 million, including support from the Welsh government.
Plant manager Wallace Yearwood said: 'I'm personally very proud to see production start on this all-new engine here in Bridgend. It's the result of a significant investment in the plant – a plant which has a long-established history of delivering world-class engines, and we will make this engine another success.'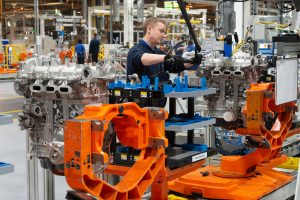 Welsh Assembly economy and transport secretary Ken Skates said: "I'm delighted to see our Welsh government investment supporting hundreds of high-skilled jobs in south Wales. We are proud to have played a part in developing this world-class manufacturing facility and look forward to continuing to work with the company and workforce to ensure a bright future for the plant at Bridgend, despite the upcoming challenges of Brexit.'
Quality confirmation of the new engine is assured through multi-stage testing and process monitoring at all points during the assembly process. Machining lines for the cylinder head and cylinder block feature the latest CNC technology and environmentally efficient cutting systems.
The all-new engine family was designed and developed by engineers at the Ford Dunton Technical Centre in Essex, as well as Ford's Technical Centre in Merkenich, Germany, and the Ford Research and Innovation Centre in Aachen, Germany.
The news comes as Jaguar's AJ engine line at Bridgend Ford is into the second day of a five-day shutdown, ending on Friday, following the two-week halt of production at its Solihull factory. The BBC quoted a Welsh government spokesman as saying it was 'obviously concerning for workers'. Meanwhile, JLR's Castle Bromwich site is on a three-day week until Christmas because of a drop in orders.

MORE: Ford launches Online Sales service as digital store is officially opened
MORE: Ford celebrates record commercial vehicle sales
MORE: Ford reveals new retail partnership with fashion and homeware chain