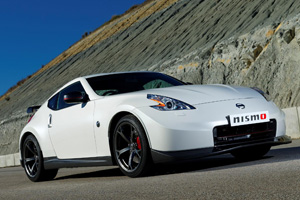 NISSAN has continued the expansion of its high-performance Nismo range, now launching a hot 370Z.
The distinctly racy-looking 370Z Nismo arrives with an updated version of the standard car's already powerful 3.7-litre V6, now outputting an extra few brake horsepower.
Now with 339bhp and 371Nm on offer – up from 323bhp and 363Nm on the normal 370Z – the Nismo can propel its self to 60mph in 5.2 seconds, shaving a tenth of a second off the standard car's time.

It's not all about additional speed though – the Nismo has also been tweaked to look more aggressive inside and out. There's a more aggressive design, 'improving airflow under the car' and 'leading to improved stability at higher speeds and through corners thanks to additional downforce.
Nissan have also fitted an'extensively re-engineered' suspension and chassis set-up, which they say is also at the benefit of handling 'on both road and track'.
There are design 'enhancements' too, such as the Nismo red 'pinstripe' lines at the front and rear of the car, or the dark grey 'superlight' 19-inch forged alloy wheels – complete with red brake callipers.
The car's interior has also been given a jazzing up. The steering wheel, finished in alcantara and leather, borrows the Juke Nismo's 'drop dead centre' race-inspired marking at the very top of the wheel, and the 370Z's sports seats are finished with special Nismo badging and red stitching.

It's not known when the Nismo will come to the UK, but further details will be unveiled at the Geneva Motor Show on March 5.