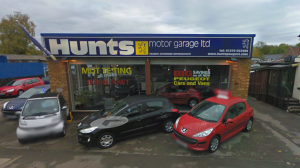 HUNT'S Motor Garage, the longest standing car dealership in Bishop's Stortford, will close its doors for the last time today. 
Hunt's, which was established in 1924, becomes the fifth garage in Bishops Stortford to close in recent years. John Whalley stopped trading last year as well as Hunt's other dealership. Meanwhile, in October 2012, LJ Sheppard Volkwagen also closed after 92 years of trading and two months previously Stort Motors also shut.
'We're in old premises and we've been here 90 years. Things are difficult and an offer came in that we couldn't refuse,' said director Paul Snare to the Herts and Essex Observer.

'The industry is very much changing and, if you're part of a franchise, most dealerships now are made of steel and glass.'
The garage has yet to reveal who will be taking over the premises.
The business was historically a Wolseley, Morris and MG dealership.
In 1960, when Bertie Hunt passed away, his four daughters took over the business. Soon after they opened the second premises and then became a Peugeot franchise in 1977 – a franchise it has held up until now.

Image credit: Google Maps