LAND ROVER has helped unveil Sir Richard Branson's new Virgin Galactic commercial spacecraft at a special ceremony in America.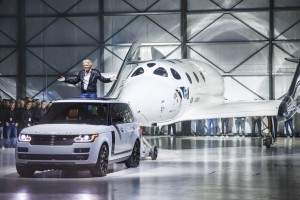 The global reveal, which took place at Virgin Group's Mojave Air and Space Port base in California, saw a Range Rover Autobiography tow out the new SpaceShipTwo – officially christened VSS Unity – in front of the world's media, special guests and a group of Virgin Galactic's future astronauts.
Sir Richard Branson played a full part in the ceremony, while Stephen Hawking announced the name of VSS Unity via a specially recorded message. The event marked the latest milestone in the partnership between the two brands.

A fleet of Land Rover vehicles currently provides valuable support for the Virgin Galactic team at its base in Mojave and will be an important part of its commercial operations for future astronauts at Spaceport America in New Mexico.
Stephen Attenborough, commercial director at Virgin Galactic, said: 'Since our partnership began in April 2014, Land Rover has become an integral part of the team's day-to-day operating environment in Mojave.
'Therefore it was fitting that the Range Rover Autobiography took a staring role in today's events as our new SpaceShipTwo, Unity, made its global debut. We're looking forward to more collaborations across the business.'
Mark Cameron, global brand experience director at Land Rover, added: 'Helping the team unveil the new SpaceShipTwo not only reflects our supporting role in the Virgin Galactic programme, but it was also an impressive display of the Range Rover's towing capability.

MORE: CDX16: We can't wait to be involved and help improve car buying, says Carwow
MORE: Wilmslow showroom crowned best-selling Aston Martin dealership in the world
MORE: Volvo recalls 59,000 cars – including 7,000 in the UK – because of faulty software
On SuperUnleaded.com: Bernie Ecclestone Says He Wouldn't Pay To Watch F1