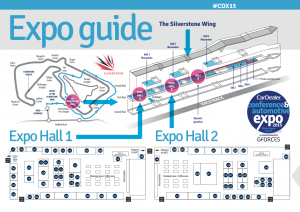 WITH just a few days to go to this year's Car Dealer Conference & Automotive Expo, excitement is building – and today we can reveal exactly what will be happening, hour by hour, at the event.
With the expo itself boasting more than 70 stands, plus keynote speakers, workshops and breakout sessions, it is sure to be a fantastic day – and of course, we'd love for you to join us at Silverstone on June 9.
You won't be short of company – 2,000 motor trade professionals have already confirmed their attendance!

If you have yet to get your tickets, they are available free of charge here – and once you're booked in, you can start to plan your day with the two downloadable documents we've attached to this story.
They'll be published as part of a guide to be handed to all delegates on the day – but you can get a sneak preview by clicking on the links below.
Guide to the expo: The floorplan for the Car Dealer Conference & Automotive Expo on June 9 – download here.
What's happening hour-by-hour: The must-attend workshops, keynote speeches and breakout sessions (plus, find out where you can get a cup of coffee!) – download the morning programme here and the afternoon programme here.

MORE: Why you mustn't miss Manheim at the Car Dealer Conference & Automotive Expo
MORE: More than 1,500 delegates sign up for the event
MORE: Women in the Motor Industry session at the Car Dealer Conference & Expo
On SuperUnleaded.com: Mustang Driver Tries To Street Race, Ends Up Parked in a Lamppost