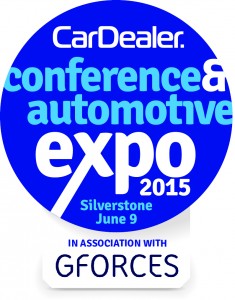 A RECORD-BREAKING 1,500 motor trade professionals have signed up to attend the Car Dealer Conference & Automotive Expo – the biggest event of its kind in the UK.
The day-long event takes place at Silverstone on Tuesday, June 9 and will feature keynote speeches from industry experts, 12 workshop sessions highlighting key trends, as well as breakout sessions to share experiences and offer insightful tips.
James Baggott, Managing Director and founder of Car Dealer publisher, Blackball Media, said: 'We have had a fantastic response from the industry. To have 1,500 sign up so far is great and we've still got a week to go. I am so pleased the industry shares my belief that the UK really needs a NADA-style event to call its own.

'We have a great line-up of keynote speakers and workshops, and a fantastic array of suppliers at our Expo. It's going to be a superb event, and something this country has never seen before.'
Offering unparalleled networking opportunities, the event will be attended by delegates from across the automotive retail sector, while the Expo will be filled with more suppliers in one place than anywhere else in the UK, creating a comprehensive who's who of industry suppliers on scores of stands.
Keynote conference speeches will be delivered by Ken Ramirez, managing director of Renault and Dacia in the UK; Steve Fowler, editor of Auto Express; Scott Sinclair, automotive industry manager at Google; and Tim Smith, group strategy director of event partners GForces.
There will also be a headline presentation by Twitter – the social media channel's only presentation on the UK automotive industry this year.

Meanwhile, delegates can choose to attend a number of fascinating and topical Q&A sessions with senior industry figures, including executives from vehicle manufacturers and leading franchised dealer groups. Among the breakouts will be one on Car Dealer's top 150 dealers on Twitter.
There will also be a special session on women in the motor trade.
Blackball Media operations director Andy Entwistle said: 'The Expo will see the largest-ever gathering of motor retail industry professionals in the UK and is an event not to be missed.
'People can sign up at any time or even just turn up on the day – but if you want to be sure of a seat for any of the events and workshops make sure you book soon.'
Tickets for the Car Dealer Conference and Automotive Expo 2015 are free of charge and can be booked by clicking here or by calling 023 9252 2434.
MORE: Why #CDX15 delegates shouldn't miss what Manheim have to say
MORE: 36 attempts to pass the driving test – and 90 goes to get past the theory test
MORE: Want to steer clear of germs? Then don't use a petrol pump
On SuperUnleaded.com: Woman Parks On Top Of Two Cars, Makes Space For Others