THE RAC has launched a new used car code to boost consumers' confidence when buying a second hand vehicle.
The code, which is the first of its type to be accredited by the Chartered Trading Standards Institute, applies to all vehicles bought through the RAC's Approved Dealer network and gives buyers peace of mind that the car they choose is dependable – as well as full recourse if something goes wrong.
An RAC survey of 1,500 drivers carried out in 2015 found that nearly two-fifths (39 per cent) of motorists who had bought a used vehicle had a bad experience and would never use the same dealer again, while 29 per cent of dealers were reported to have dealt badly with putting problems right.

The RAC Used Vehicle Code of Practice, adopted by every dealer that carries the RAC's Approved Dealer branding, has been subjected to stringent tests by the Chartered Trading Standards Institute. It explains in simple language the high levels of service dealers must demonstrate to customers, how complaints are handled and how stock must be advertised. It also sets out the RAC's BuySure guarantee, which applies to all vehicles sold.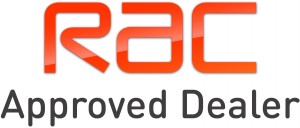 RAC Approved Dealer network manager Gary Wrightson-Heyworth said: 'Buying a used car remains for some consumers a daunting prospect and we are determined to help make the process as stress and risk-free as possible.
'We started by working hard to develop a nationwide network of dealerships that motorists can depend on again and again when they are looking to buy a used car. The independently accredited code we are launching today is proof that we have complete confidence in the dealers that we have chosen to work with – and that consumers can have that confidence too.'
Leon Livermore, chief executive at the Chartered Trading Standards Institute, said: 'Few of us are car experts, so when it comes to buying a car, especially a used car, that makes us vulnerable consumers.

"Often, the lower the budget the more vulnerable a person is, and when things go wrong on a car that is financed, costs can soon start to snowball. By becoming a consumer code sponsor, the RAC has proved it is committed to consumer protection and delivering the highest levels of customer service, and we are pleased to welcome them on board.'
Pictured at top: Mario Dolcezza, the RAC's head of dealer propositions, receives the accreditation from Baroness Christine Crawley, president of the Chartered Trading Standards Institute
MORE: RAC increases warranty agents by a third 
MORE: Even small used car buyers are beginning to think nationally, says RAC
MORE: RAC – Why it's difficult to sell a legally sound car for much below £2,000
On SuperUnleaded.com: Formula One Reviews Season In 8-Bit