• Leaked video shows the top minds in automotive digital solutions at work
• New technology experiments documented, along with the processes that go into making them
• Unknown source within GForces blamed for the distribution of the footage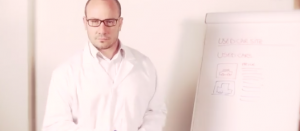 Under extraordinary circumstances, rare footage of GForces' Research and Development programme has been leaked on to the web. This astonishing insight lifts the metaphorical lid on how GForces approaches R&D, exposing the brains and processes behind the makers of NetDirector software and systems.
The film, which was made for internal assessment and was never intended to be published, shows members of the digital agency's most experienced software architects, data analysts and lead programmers run a series of experiments covering topics such as UX (user experience) on GForces web interfaces and the Behavioural Driven Development (BDD) approach encouraging user feedback at each stage of a software design programme.

There is also a section on how NetDirector Auto V10 used car pages were improved through a rigorous iterative approach and, unbelievably, reveals the algorithm used in NetDirector LeadBeast, GForces' proprietary analytics tool. The yet-to-be-released New Car Experience module is also featured, demonstrating the latest 3D CGI assets which applies multithreaded SAMP, target renders and non-streaming textures to generate 40k polygon definition.
The footage has made its way on to the web from an unknown source – most likely a 'mole' within GForces. Reports suggest further experiments are being undertaken to gauge how tools like a 'Vehicle Servicing Fulfilment Module' (VSFM) might be accepted within the industry, as well as qualitative assessment of the impact on the current sales process….