THE latest edition of Car Dealer Magazine is ready to be downloaded to your iPad FREE of charge.
It's our annual Geneva Motor Show issue, and we can offer you unrivalled coverage of the event with 26 pages of expert reports and analysis.
We bring you news of the latest additions to the packed schedule of events at CDX, now fewer than eight weeks away.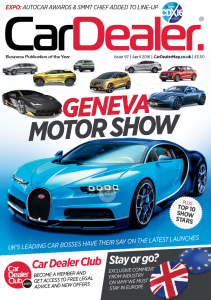 And we look at the effect of 'Dieselgate' on the prices of used cars from the Volkswagen Group.
That's not all! Sophie Williamson-Stothert chats to Rybrook MD Henry Whale about the firm's 79-year history and SMMT chief executive Mike Hawes explains why the UK's continued membership of the European Union would be good news for our automotive industry.
Car Dealer Club is relaunched in the current issue of the magazine, and we bring you news of Trade Plates TV, a new initiative from the publishers of Car Dealer.
We look in detail at 'top technology' and chat to suppliers who can provide clever products and services to help your dealership run more smoothly.

With our usual array of entertaining columnists, and reviews of the Mini Convertible S, DS 3 Puretech and Hyundai i20 Active, issue 97 is not to be missed!
The iPad app is completely FREE to download and subscribe to. Just click here!
MORE: New director of Lexus division appointed
MORE: Bristol Street Motors helps Bradford Bulls kick off new season
MORE: Hexagon moves into flagship showroom in Finchley
On SuperUnleaded.com: Want To See A Phone-Controlled Car?