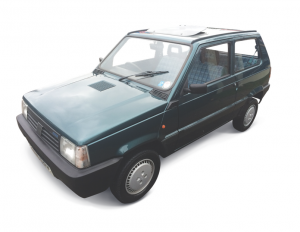 AS endangered species go, the Panda is right up there. Cute and loveable once upon a time, they were commonplace. These days, however, they are a rare species to spot. However, if you travel to Ashford in Middlesex you might be lucky enough to see one.
Launched in 1980, Fiat sold more than 4.5 million of the original Panda and although these are becoming increasingly rare on the UK roads,
they are still incredibly common in Italy, where the warmer climate, sheer volume originally sold and Italians' love for them means they are still used throughout the country.
Many people don't realise the Panda was a Giorgetto Giugiaro design – and he said it was one of his favourites. It's not hard to see why. The Panda took back to basics seriously and the original car was actually launched with a 652cc two-cylinder engine in some markets, while there was also an electric version sold in Italy between 1990 and 1998, some time before the current trend for electric cars.

Sadly, the Electra lost its rear seats to house the batteries and also put on significant weight. It was a crushing failure.
The Fiat was all about basics, but also practicality. It featured a rear seat that could be adjusted into multiple positions to lie flat or even folded into a V and the seat covers were washable and removable. All the glass in the car is flat so it's easy and cheap to replace.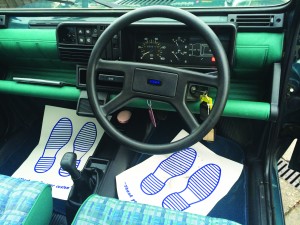 A big success for Fiat was the Panda 4×4. These still have a huge following and if you come across one of these in good condition, snap it up quick. Putting a basic 4WD system into a cheap car was a stroke of genius that had pretty much gone unmatched until the Dacia Sandero. Steyr
Puch suppled the drivetrain. You may think these are the guys who make bicycle gears, but they also produced the drivetrain for Mercedes G Wagen for many years.
Sadly, a propensity to rust and the vicious depreciation that unfairly affects Fiats saw the demise of the Panda in the UK and within just a few years of the end of production hardly any are seen on the roads. Unless you are in Middlesex.

The car you see here was registered in 1994 to a Mrs Joyce Titler and has stayed in her ownership ever since, until now finding its way into the hands of Allwoodautos. In its 21-year life it has covered exactly 3,319 miles and been serviced five times.
Now we could argue this doesn't constitute a full service history as that's only once every five years, but given its annual mileage is fewer than 200 miles, we feel this would just be being a bit picky.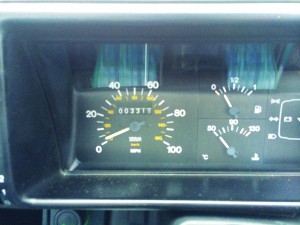 We spoke to Alan, who has confirmed the car is absolutely original in every way and 'drives just as it did the day it left the factory'. Joyce kept all then MOTs to back up the mileage and it seems she wasn't a bad driver – Alan confirms the car doesn't appear to have had any paint damage at all and, unlike some cars that have spent their life with one owner, there are no battle scars on any of the bumpers. Although we can't confirm, we are pretty sure she's probably still on her original rubber – and I bet those washable seat covers have never needed to be removed.
We think this must surely be the lowest-mileage Panda in the country. But how do you value the car? And who will buy it? It seems a shame this car might just go to someone who needs a small cheap runner. We think a motor museum or indeed Fiat themselves should be looking to buy this car and put it on display.
If you are a bit of a wildlife fan and want to save a Panda, give Alan a call on 0992 809058 and see if you can tempt him with some shoots of bamboo!
Andy Entwistle
MORE: Almost one in four adults is thinking of buying a new car
MORE: New Infiniti centre to open in Kent later this week
MORE: Lookers employee on 'Big Drive' challenge to Barcelona
On SuperUnleaded.com: This Nurburgring biker video will make you feel a bit sick