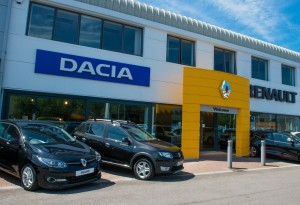 GRIFFIN MILL Garages in Pontypridd, which is owned by VT Holdings, has transformed its former Skoda site into a state-of-the-art Renault and Dacia showroom to become the 12th new deaalership to join the franchise in the past 12 months.
Griffin Mill, which was established in 1961, has Nissan, Kia, Peugeot and Fiat dealerships in south Wales. It was bought by VT Holdings in 2014, which has more than 150 outlets, predominantly in Japan, as well as in the UK, South Africa and Australia.
Tim Bagnall, managing director of Griffin Mill, said: 'We are extremely excited about this new move. We have been looking at Renault and Dacia for some time and it is clear to see they are growing. It's a fantastic prospect to add two of the fastest-growing franchises to what we already have. Renault and Dacia are franchises for the future and we are keen to make this a successful partnership.'

The seven-car showroom in Tonteg Road, Pontypridd, has undergone a complete renovation to provide the latest Renault Store innovations that allow customers to explore the Renault brand, its products and heritage in an engaging and interactive way.
Darren Payne, sales director of Renault Group UK, said: 'Griffin Mill Garages have built up an excellent reputation over more than 50 years and we are thrilled to see them join the Renault Group UK network in a move that strengthens our presence in south Wales. We know the owners, VT Holdings, have ambitious plans to expand in the UK and we are confident this is just the start of a successful partnership.
'Expanding our dealer network is a key part of our strategy for sustainable growth. This is an exciting time for Renault Group in the UK, with our sales this year again growing significantly ahead of the market growth, as our outstanding range of Renault and Dacia vehicles continues to find favour with many new customers to both brands.
'Our growth is set to continue as we enter new market segments with terrific new models like the all-new Renault Kadjar crossover plus the addition of new franchisees in new territories like Griffin Mill in south Wales, which will secure the delivery of our ambitious but achievable growth objectives.'

Griffin Mill Garages employs 120 people.
MORE: 77 per cent of motorists have never bought a car warranty
MORE: Blog: Five ways dealerships can drive more sales and leads
MORE: Positive May for UK car manufacturing, says SMMT
On superunleaded.com – Lexus Make A Real Life Back To The Future Hoverboard