By Harry Bott
Automotive call-tracking specialist
Harry Bott is a director of Mediahawk, which provides call-tracking solutions to more than 20 per cent of the AM 100 and a number of manufacturers such as Kia, Vauxhall, Citroen and Hyundai. Bott works with dealers to help them improve their response and conversion rates to sales and service enquiries.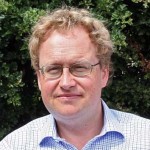 These days the telephone is becoming the most important part of the customer journey, with calls providing the highest-quality leads. BIA Kelsey research found that 65 per cent of Fortune 500 companies stated that phone leads are their best-quality lead source and 61 per cent of mobile phone searches resulted in a phone call.

With this in mind, the telephone is an incredibly important response tool for dealerships, because studies have shown customers looking to buy higher-priced items, such as cars, will tend to call a business.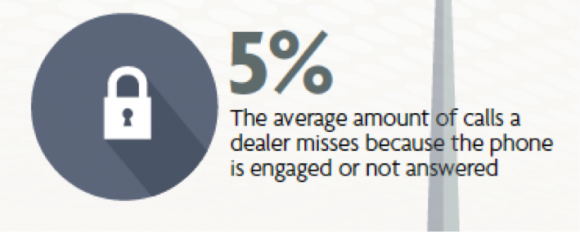 However, on average dealers don't answer five per cent of their inbound sales calls. Although that might seem like a small percentage to some, in this sector, one purchase pays big dividends, so closing those five per cent of lost leads can pull in even more revenue. Potential customers want a fast and polite response, and dealers who are responding to sales enquiries within two hours have, on average, a one per cent higher ROS compared to dealers who are unresponsive.
By using call-tracking software to track your inbound calls, you're able to gain vital insight into dealership performance, giving you the tools and key performance metrics you need to increase your return on sales.
Here are five tips for helping automotive dealers increase sales through their number one tool: the telephone.

1. Cover your bases
Is your business resourced to handle your sales calls? 97 per cent of all calls to a dealer are within office hours (8am to 6pm). Monday mornings are the busiest time for calls, so you'll naturally want to ensure you have enough staff to answer and follow up these calls.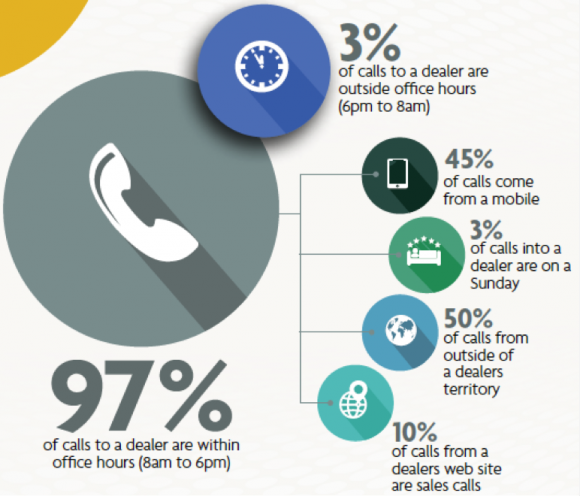 But what about the three per cent of calls that come through to a dealer between 6pm and 8am, or on Sundays? Call tracking allows you to set up missed-call alerts. These alerts work by automatically sending an email to registered users or sales teams every time a phone call is missed, so you won't lose any potential leads.
2. Response management is vital
When a customer is considering spending their money with you, it goes without saying they want to be treated with respect.
With today's technology and availability of broadband, tablets and smartphones, consumers already know about a retailer's offering before they enter the buying environment, so retailers need to up their sales game.
Research shows 18 per cent of customers will not buy from a retailer if the quality of their initial phone call is not up to scratch. Another 75 per cent will go on to make a purchase within 48 hours of the initial call.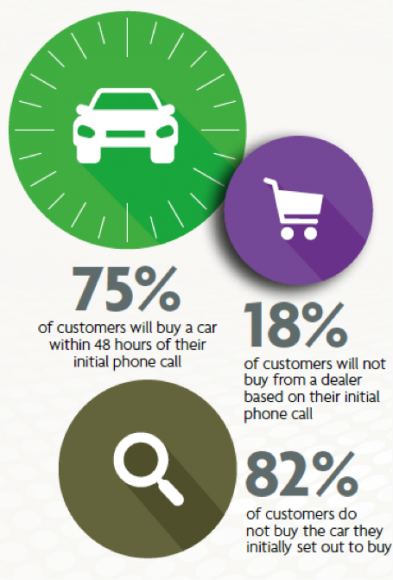 Retailers have only a small window to convince a consumer to purchase from them; the modern car buyer remains undecided right up until the last minute, and 82 per cent don't even buy the car they initially set out to purchase.
With the telephone being the prime initial touch point for a business, understanding your call handling is vital in the quest to improve your customer service and boost sales conversions.
3. Recording calls can provide crucial insight
Call tracking can give you valuable insight into how your business handles inbound sales leads and what needs to be improved. For example, did you know that an average of 20 per cent of sales calls do not get past reception to a sales person? Or that 65 per cent of sales leads are not recorded on a dealer management system within 24 hours of the initial enquiry?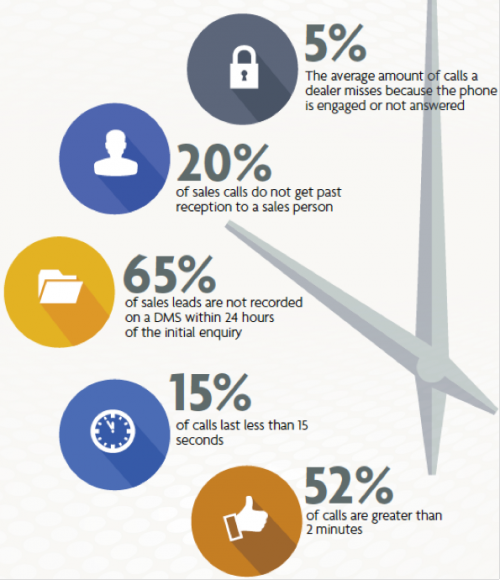 By recording and reviewing calls, you can identify how many calls you receive from marketing that are actually sales calls. These calls can be linked to completed sales so a true conversion rate can be calculated, allowing you to build up an accurate picture of how influential your marketing and call handling is.
4. Tightening process flows directly to the bottom line
Call tracking offers a direct link between marketing effort and sales outcomes, providing you with insight to direct your marketing spend more effectively. This can help you determine whether you have sufficient leads, and if the money being spent in certain areas of marketing is a worthwhile investment.
According to our research, the top five sources of qualified sales calls come from a dealer's own website, the manufacturer's website, Auto Trader, Pay Per Click, and targeted direct mail. Plus, 30 per cent of calls into a dealership are generated through Google Maps.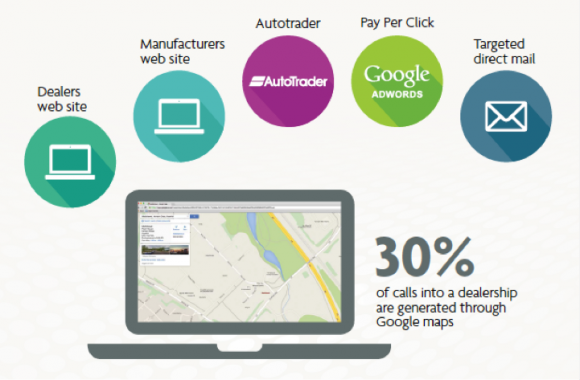 Call tracking enables you to count calls and monitor the quality of sales leads for every marketing channel you utilise, and identify which channels either need reviewing or aren't working for you.
Mobile phones now account for 45 per cent of telephone calls to dealers. However, up to 75 per cent of all sales calls across all sectors now come from mobiles, so there is the potential to attract extra calls through proper mobile website optimisation.
The largest benefit is, of course, an improved sales process. A tighter process and quick and courteous responses will increase your customer satisfaction. A happy customer is likely to tell their friends of their positive experience, creating a virtuous circle, and over time, improved ROS results.
5. The need for speed
As part of our recent research commissioned by Auto Retail Network, we mystery shopped the AM top 50 retailers and the top 10 car supermarkets. They were measured on their speed of response, and had their response rates compared to their ROS as provided on their most recent reports and accounts.
The results showed that more than 50 per cent of the companies are yet to respond, with only 10 per cent responding within two hours. Those who did not respond have an average ROS of less than one per cent, while those who responded within two hours had an average ROS of nearly two per cent.
Mediahawk also found that while 88 per cent of calls are answered within 10 seconds, 81 per cent of callers hang up within just 20 seconds, with a mere seven per cent of callers willing to wait more than 40 seconds before they hang up – meaning you simply cannot afford to keep your customers waiting.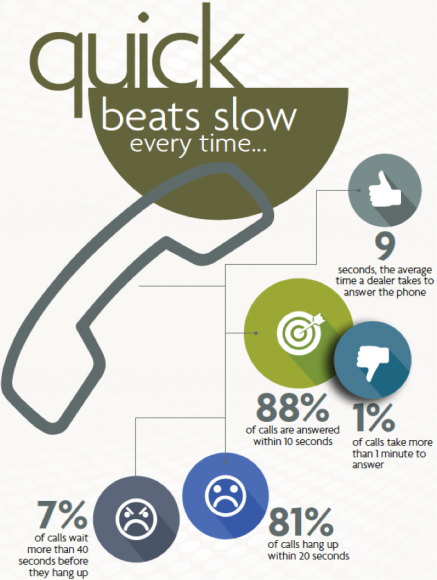 Dealers are aware they have a problem with response rates; the challenge lies in changing processes. Call tracking provides evidence of the need to change, and provides the tools required to manage the change.
By embracing call-tracking technology you'll be able to view valuable insights into your business and improve on weak spots. On average, 10 per cent of calls from websites are sales calls and, by focusing your attention on supplying a fast response to potential customers, you're likely to see a higher return on sales.
MORE: Wi-fi experiment at CDX15 was a huge success
MORE: Ford's new models will be able to see round corners…
MORE: Download issue 88 of Car Dealer Magazine FREE to your iPad
MORE: It's time to enter Car Dealer Used Car Awards 2015 – and be part of the biggest party going!
On superunleaded.com – The Weirdest Things We've Spotted On Google Street View