by Tim Smith, group strategy director at GForces
Before the recent Car Dealer Conference and Expo, GForces appealed to attendees to take part in a little experiment to test-drive our new NetDirector Footfall smart Wi-Fi system. We can happily say the experiment was a big success!
Throughout the day, the system logged all kinds of data associated with the delegates who were on site and using their mobiles, tablets or laptops. For example, we logged more than 2,300 different wi-fi enabled devices throughout the day, and at 11.45am, more than 300 people were simultaneously using the system.
Twitter was also found to be one of the most popular sites – unsurprising then that #CDX15 was trending most of the day!

We have visualised some of the data we gathered in an infographic to show just what it's possible to find out using the Footfall system and its unique reporting suite. Though it does stop short of registering your bank account PIN number…
Vauxhall retailer Tony Le Voi is trialling NetDirector Footfall in its Thurrock showroom. Using the system, Tony Le Voi will be able to track aggregated visitor numbers, duration of visits and also monitor any repeat visits by those who have previously logged into the guest wi-fi.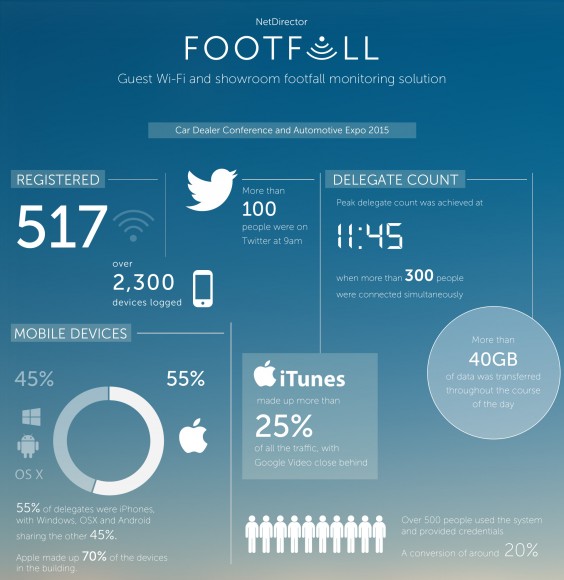 This intelligence is reported via an easy-to-use dashboard which offers significant business insight into customer behaviour. In development, too, is a 'heat mapping' function which will enable users to find out what areas of a showroom are popular, and the areas customers avoid.
Simon Dayes, group sales operations director at Tony Le Voi, said: 'This is a very exciting trial to be involved with as we think it represents the first stages of true integration between a customer's online interactions and what they subsequently do when visiting a showroom.

'There is a ready opportunity to create a 'virtual meet and greet' which benefits the customer and us as a business, while the data we gather will be vital in terms of optimising processes for the better.'
With almost all car buyers consulting the web before visiting a showroom, technology like NetDirector Footfall is providing that all-important link between a the web and the forecourt that has been missing for so long.
MORE: Ford's new models will be able to see round corners…
MORE: Download issue 88 of Car Dealer Magazine FREE to your iPad
MORE: It's time to enter Car Dealer Used Car Awards 2015 – and be part of the biggest party going!
On superunleaded.com – White Van Man Angry At Fine For Middle Lane Hogging, Shock Horror