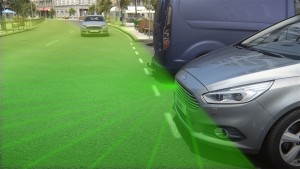 IS there anything cars can't do these days? Ford has just announced the new Galaxy and S-MAX will have cameras on the front – and they'll be able to see round corners…
They're designed to help drivers at blind junctions and at T-junctions, to prevent them from inching forward into traffic.
The Front Split View Camera – available as an option on the all-new Ford Galaxy and S-MAX – displays a 180-degree view from the front of the car, using a video camera in the grille. At a blind junction or exiting a driveway, the camera enables drivers to easily spot approaching vehicles, pedestrians or cyclists.

Ronny Hause, engineer, Driver Assistance Electronic Systems, Ford of Europe, says: 'It's not just blind junctions that can be stressful – sometimes an overhanging tree or bushes can be the problem. Simply driving off driveways can be a challenge. Much like a rear-view camera, Front Split View Camera is one of those technologies people will soon find indispensable.'
The first-in-segment technology is activated at the push of a button. A one-megapixel camera in the front grille enables drivers to see a real-time 180-degree view – both left and right – on the vehicle's eight-inch colour touchscreen. Drivers can track road users that approach on either side and pass in front of the vehicle. The camera, just 33mm wide, is kept clear by a specially-designed retractable jet-washer that operates automatically when the windscreen wipers are activated.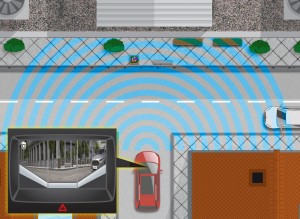 Data recorded by the European Road Safety Observatory SafetyNet project indicated that approximately 19 per cent of drivers involved in accidents at junctions experienced obstructions to view. The UK Department of Transport said that in 2013, vision affected by external factors contributed to 11 per cent of all road accidents.
Hause said: 'We tested the Front Split View Camera on all kinds of roads, congested urban streets and areas with a lot of cyclists and pedestrians, tackling tunnels, narrow alleys and garages in all light conditions so we could ensure the technology worked well, even when sunlight was shining directly into the camera.'

Ford models including the all-new Galaxy and S-MAX already offer Rear View Camera technology; and Cross Traffic Alert system, which uses rear-mounted sensors to warn drivers reversing out of a parking space of vehicles that may soon be crossing behind them.
The new Galaxy and S-MAX also includes an Intelligent Speed Limiter which, when activated, scans traffic signs and adjusts the throttle to help drivers stay within legal speed limits.
The all-new Galaxy and S-MAX are available to order now, priced from £27,595 and £25,245 respectively, with front and rear cameras a £400 option. Front Split View Camera also will be offered on the all-new Ford Edge upscale SUV, available in Europe later this year.
MORE: Download issue 88 of Car Dealer Magazine FREE to your iPad
MORE: It's time to enter Car Dealer Used Car Awards 2015 – and be part of the biggest party going!