NEW figures from the Society of Motor Manufacturers and Traders (SMMT) reveal a steady growth in UK car manufacturing in May, with 119,338 cars built – a rise of 2.3 per cent.
The strong domestic market once again played a significant part with a 13.3 per cent increase outweighing a small dip in production for export.
Industry is gearing itself up for a more prolonged period of growth in the mid- to long-term, as multi-billion pound investments will see new models hitting the production line.

Mike Hawes, SMMT chief executive, said: 'We have seen a steady performance in UK car manufacturing this year with volumes bolstered by a strong home market, while recovery in key European markets is helping to restore export production levels.
'Long-term, the picture is promising –"Built in Britain" is still in high demand all over the world, with buyers attracted not only by iconic British brands but also by the high quality of our engineering. With a significant number of new models due to start production in the coming months, we anticipate a strong, sustained upturn in output volumes in the years ahead.'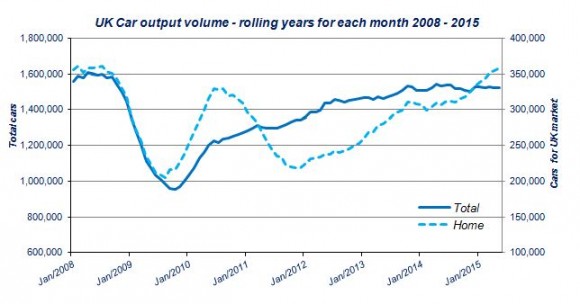 MORE: Wi-fi experiment at CDX15 was a huge success
MORE: Ford's new models will be able to see round corners…

MORE: Download issue 88 of Car Dealer Magazine FREE to your iPad
MORE: It's time to enter Car Dealer Used Car Awards 2015 – and be part of the biggest party going!
On superunleaded.com – The Weirdest Things We've Spotted On Google Street View