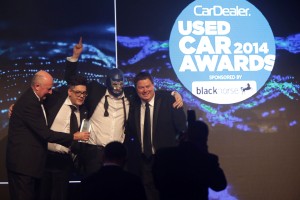 WINE has been drunk, you've partied the night away and there are definitely some tired eyes this morning – but finally we've announced the winners of the biggest night in the used car calendar.
Everyone who made it on to our shortlist should be extremely proud of what they have achieved this year, but below are the dealers who absolutely stunned us in 2014.
Missed the night? Take a look below and see who are the top dogs of the Used Car Awards or you can see the celebrations in pictures here.

THE WINNERS
Used Car Dealership – under 50 cars sponsored by Black Horse
Winner: Prestige Diesels Portsmouth
Highly Commended: Alexanders Prestige and Rybrook Volvo Chester

Used Car Dealership – 50-100 cars sponsored by Black Horse
Winner: Quirks Car Company
Highly Commended: Burton Kia and Jim Reid Vehicle Sales
Used Car Dealership – more than 100 cars sponsored by Black Horse
Winner: Caralot
Highly Commended: McCarthy Cars and Cargiant
Used Car Dealer Group of the Year sponsored by Black Horse
Winner: Perrys
Highly Commended: CarShop and HR Owen
Dealer's Dealer of the Year sponsored by Evolution Funding
Winner: John Holland Car Sales
Used Car Sales Team of the Year sponsored by Car Finance
Winner: Wrexham Volkswagen
Highly Commended: SMC Ford and Quirks Car Company
Used Car Sales Manager of the Year sponsored by Car Dealer Magazine
Winner: Andy Crick (Jack Barclay)
Highly Commended: Phil McCaffery (Rybrook Chester) and Philip Diacono (TW White & Sons)
Used Car Dealer Principal of the Year sponsored by HPI
Winner: Jane Hargreaves (Wrexham Volkswagen)
Highly Commended: Maxine Croft (Just Citroen, Keighley) and David Peachey (Fownhope Mitsubishi)
Upsales & F&I Performance of the Year sponsored by Car Dealer Magazine
Winner: Sam Knight & Nick Collins (Watford Audi)
Highly Commended: Adam Smith (Quirks Car Company) and Phil Buchan (Jim Reid Vehicle Sales)
Best Used Car Customer Care sponsored by First Response
Winner: McCarthy Cars
Highly Commended: Specialist Cars Stoke and TW White & Sons
Used Car Product of the Year sponsored by Lawgistics
Winner: Sun Motors
Highly Commended: Car Finance Checker and Glass's Digital Guide
Outstanding Achievement of the Year sponsored by Sun Motors
Winner: Lings
Lifetime Achievement Award sponsored by Northridge Finance
Winner: Afzal Kahn
Manufacturer Used Car Website of the Year
Winner: Citroen
Highly Commended: Volkswagen and Kia
Dealer Used Car Website of the Year sponsored by Autogard Warranties
Winner: Nicholas Mee & Co
Highly Commended: Cargiant and CarShop
Social Media User of the Year sponsored by Evolution Funding
Winner: Perrys
Highly Commended: Prestige Diesels Portsmouth and Imperial Car Supermarket
Service and Repair Outlet of the Year sponsored by Independent Garage Association
Winner: Anderson Clark Motor Repairs
Highly Commended: Newtownabbey Autos and Crescent
Manufacturer Used Car Scheme of the Year sponsored by BEN
Winner: Volkswagen
Highly Commended: Citroen and Kia
Used Car of the Year sponsored by GardX
Winner: Kia Sportage
Highly Commended: Citroen DS3 and Volkswagen Golf
Best Performing Used Car of the Year sponsored by Glass's Guide
Winner: Range Rover Evoque
Highly Commended: Audi Q3 and Land Rover Freelander
Apprentice of the Year sponsored by GardX
Winner: Jack Waddell (Big Motoring World)
MORE: The Car Dealer Used Car Awards 2014 in pictures
MORE: The Used Car Awards 2014: The top ten tweets