The Blue Oval has pushed the boat out to pitch at the luxury end of the market. Jack Evans finds out if this car really is special
What is it?
The Mondeo Vignale is designed to be the highest-quality version of the popular saloon and estate car that Ford offers. With higher levels of equipment and improved interior quality, the Mondeo Vignale is there to show that Ford does have an eye on the premium market as well as offering excellent value-for-money across its vehicle range.
What's under the bonnet?
Our car came with a 2.0-litre bi-turbo diesel that we've previously seen on the new S-Max. It develops 207bhp while driving the front wheels through a six-speed automatic gearbox. There's a hybrid, too – but there's no doubt that most Vignale buyers will opt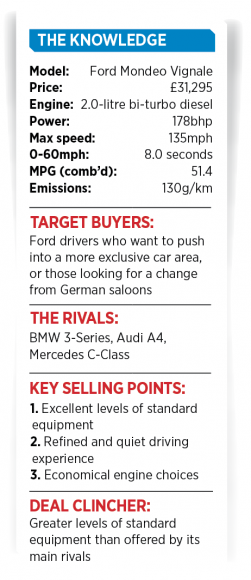 for the oil burner. It's got more than enough power for the job, and also feels refined and quiet. The quietness is down to the engine mostly, though the use of acoustic glass definitely emphasises the whisper-silence.

What's the spec like?
There's a whole lot more here than a boggo Mondeo. As previously mentioned, there's acoustic glass, Ford's SYNC2 infotainment system, Active Park Assist that can bay park as well as parallel, and also LED headlamps. It's worth remembering that each Vignale Mondeo comes with VIP treatment – each buyer gets his or her own relation manager, complementary car washes and 24-hour customer support. As far as feeling special goes, the Mondeo Vignale certainly provides.
What's it like to drive?
The Mondeo Vignale drives just like, well, a Mondeo. The steering is relatively light, there's enough shove from the engine to please most, and the ride on 18-inch wheels is relaxing and comfortable. The gearbox, however, is a little clunky when compared to the 7- or 8-speed transmissions offered by competitors, but it does the job just fine. Our car was still returning near 50mpg, even on a short motorway and B-road stint. It is a very quiet car and comes with levels of refinement that wouldn't be out of place in some rival German cars.
What do the press think?
Auto Express said: 'Top-spec Ford Mondeo Vignale offers luxury materials and loads of extras – but at a high price.'
What do we think?
The Mondeo Vignale is certainly a serious sign of intent from Ford to offer a more luxurious and bespoke car. With the Mondeo Vignale, they've certainly succeeded in making drivers feel special with the cabin materials and high levels of refinement, as well as impressive bespoke aftercare. However, the asking price does push the Mondeo Vignale towards some pretty serious rivals – rivals with some premium badges that buyers are, perhaps, more likely to choose.