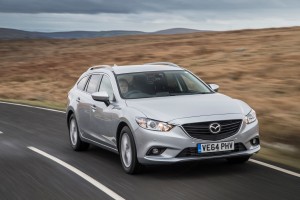 MAZDA is hoping to increase new car sales by a substantial 20 per cent this year, the company's UK managing director has told Car Dealer.
If the target is reached, the Japanese manufacturer will shift more than 45,000 cars this year – well ahead of the total registrations figure for 2014 of 37,784.
The sales push will be assisted by a huge wave of new product coming through during 2015 – including new Mazda 6, Mazda 2 and MX-5.

Mazda boss Jeremy Thomson said: 'In terms of sales, the industry is predicted to be roughly flat compared to 2014. However, we are planning for a 20 per cent increase on sales and almost all of that is on the back of major new product launch opportunity.
'That's on the back of three years of growth [for us] that's been substantially more than the industry average. That's obviously good news for the brand and very positive for the dealer network.
'It puts Mazda very much on the map for consumers which is important. There are so many manufacturers vying for attention these days.'
Thomson told us that the Mazda management team had just completed a round of 'dealer talkbacks' – a key plank of the company's internal communications strategy.

'We've visited six venues to sit down with the dealer network,' he explained. 'It's something that happens every six months. We've done it through really tough times – during the financial crisis – and now, of course, the very good times.
'The message of our talkbacks this time was just alerting everybody to the sheer intensity and pressure – good pressure – that this year is going to bring to the dealer network. We will launch five cars, so that will be three all-new cars and two major upgrades in the space of six months. And that six-month period will be book-ended by two peak months, March and September.
'So it is a full-on time and at the same time, the dealer network is going through a major upgrade of its showrooms. So over the next six to 12 months, every single dealer in the country will have a really outstanding new showroom with a look and feel very different from today's dealership environment.
'We're at the stage now where there is so much product news, we need to ensure that the whole customer experience is a lot more premium. We're moving in a very positive direction.'
MORE: Vines enters fifth two-year contract with Accident Exchange
MORE: Dealers and customers win with used car PCPs, says CAP
MORE: Market Insight: A solid start to the year on the back of positive announcements