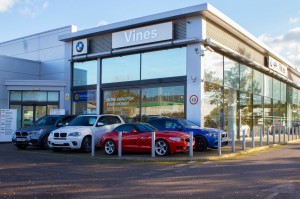 THE Vines BMW Group has renewed its contract with Accident Exchange for the fifth time and is now entering the twelfth year of its partnership with the accident management firm.
The new contract will mean that Accident Exchange will continue to look after Vines BMW and Mini customers at least until the end of 2016.
The Vines Group, which is one of the few remaining family-owned BMW Group retailers in the South East, cites Accident Exchange's balance of profitability and personal approach to customer service as the reason behind the longevity of the relationship.

Prior to taking control of accident management at Vines in 2003, Accident Exchange had also established a strong reputation with other BMW Group dealers.
Sean Kelly, managing director at Vines BMW, commented: 'The aftermath of an accident can be a stressful and disrupted time and, for several years, Accident Exchange has enabled us to make a difficult time as positive as possible for our customers.
'Accident Exchange's customer-facing approach has been exemplary and I have no hesitation in allowing them to handle Vines customer accounts. They have also been very proactive with dealership visits, ensuring that my staff receive regular training and the latest industry news.'
Accident Exchange provides onward mobility to motorists following an accident and has a designated fleet of prestige cars as well as mainstream and commercial vehicles. Accident Exchange has a long history of working with the BMW Group and recently its first notification of loss (FNOL) programme helped drive a 36 per cent increase in parts sales for another BMW retailer.

MORE: Dealers and customers win with used car PCPs
MORE: Market Insight: A solid start to the year
MORE: First look at Infiniti's QX30 concept