A NISSAN salesman who thought up a bedtime story for his daughter has seen his fairytale turned into a book.
Barry O'Neill, fleet sales executive at Benfield Nissan in Gateshead, came up with the quirky tale to entertain Katie, now eight, before bed.
Having separated from Katie's mother, O'Neill said the most valuable time with his daughter was Saturday nights, which he would spend reading to her and making up stories.

One story, about a man called Bill who wakes up one morning to find he has a backside for a head, always made her laugh.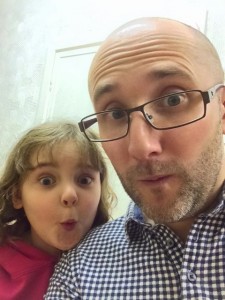 O'Neill wrote Bumhead Bill in just one night but it took three years before he finally managed to get it published by Whitley Bay-based publishing agency Consilience Media.
'They loved it,' O'Neill said.
The humorous tale is written in rhyme and illustrated by O'Neill himself, with black-and-white drawings that lend themselves to being coloured in.

He describes the book as 'a little bit different', featuring the kind of below-the-belt jokes that appeal to youngsters.
O'Neill said his employer, Benfield Nissan, had been really supportive by posting about his book on social media and holding a competition giveaway for customers.
He said Katie thought the book was 'the best thing ever'.
And he added: 'My colleagues at Benfield Nissan love it too. They've been really supportive in my quest to get it published. I hope it brings some joy to parents and their children at bedtime, just like it did for Katie and me.'
MORE: Arnold Clark opens new Motorstore branch in Wigan
MORE: Lack of defeat devices is good news for us, says Renault
MORE: 'Dealers must be flexible as new and used car buying patterns change'
On SuperUnleaded.com: Ferrari 458 Spider Falls Victim To UK's Weather, Loses Face