A formal pre-sale process can help your business stay safe and compliant, says Sean Kemple.
WE all know that it is easier and more cost-effective to retain an existing customer than find a new one. Many of our dealer partners excel at customer service and enjoy a high portion of repeat business as a result.
However, it only takes one bad experience as a customer, or a vehicle that develops a fault, to threaten all that hard work.
This threat is amplified by the fact that customers today are driven more and more by recommendations and review sites like TrustPilot and other similar ones. Customer experience is more transparent now than it's ever been.

To help keep dealers safe and compliant, we recommend implementing a formal pre-sale process to help avoid customer complaints arising and protect you against future costs.
The handover process too is a crucial part of the customer service experience you're delivering, and care should be taken to use this opportunity to set and manage your customers' expectations for the benefit of both parties.
Before you start considering new processes for your business, however, it is important to remind yourself of the key parts of legislation relevant to customer complaints.
The Consumer Rights Act 2015 
– what you need to know
Within first 30 days of the sale of a vehicle

Did you know a customer is entitled to reject their vehicle if faults are found to have been present at the point of sale? In the event of a complaint, you need to prove beyond reasonable doubt that the fault was NOT present on the vehicle when it was sold.
From 31 days to six months following 
sale of the vehicle
Did you know that if it is proven that a fault was present when the vehicle was sold, a customer is entitled to have the fault repaired free of charge?
If the repair is unsuccessful, the customer is then entitled to reject the vehicle. You may carry out multiple repairs on the vehicle if the customer is happy with this. We recommend getting this acceptance in writing.
You are also entitled to offer the customer a discount instead of a repair or take the vehicle back and end any finance agreement.
However, it's important to note that this is 
the customer's decision.
Outside six months following a vehicle sale
Similar to the point above, if it is proven that a fault was present when the vehicle was sold, a customer is entitled to have the fault repaired free of charge.
However, at this point in time it is the customer's responsibility to prove beyond reasonable doubt that the fault was on the vehicle at the point of sale.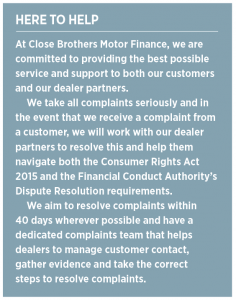 If a repair is carried out and the customer alleges the repair is unsuccessful, they must prove this.
It's true to say that cars can develop faults over time; faults that cannot always be predicted or prevented. To protect yourself from any unnecessary costs or future unpleasant disputes with customers, we've outlined our top tips for implementing a robust pre-sale process.
Top tips
1. Capture the true condition of the vehicle and any faults or damage at the point of sale
• Make sure you capture anything on the vehicle that can be defined as damage (as defined by the BVRLA).
• Ask the customer to inspect the vehicle for any additional damage.
• Once the customer has inspected the vehicle and is happy, ask them to sign and confirm there is no other damage present.
• Include the BVRLA standards definition of damage in the declaration.
2. Capture what is being supplied to the buyer
• A spare key.
• Service history of the vehicle.
• Any additional extras such as mats or trim.
• Any modifications to the vehicle.
• Capture the point-of-sale mileage accurately and get the customer to sign to acknowledge that the mileage is correct.
3. Keep copies of vehicle adverts
• Keep any adverts that you've used to sell the vehicle – these show how the vehicle was presented to the customer.
• Ask the customer to sign adverts that highlighted key information about the vehicle.
• Insurance write-offs, known manufacturer faults and vehicles that have a rental history should always be declared to customers prior to sale. Ask the customer to sign acceptance if this is the case.
4. Keep records
• If you carry out work on a vehicle, you should keep all receipts and evidence.
• Keep a record of the HPI check.
• If a health check is carried out, keep records (for as long as you feel necessary) and any job sheets that show any repairs carried out prior to sale.
• If you check for manufacturer faults prior to sale, keep records of the checks.
5. Seek customer feedback
• While the customer is waiting for the vehicle to be prepped, ask them to give you a review online.
• If you do receive a negative review, respond publicly. This will reassure other potential customers that you take all complaints seriously.
Sean Kemple is director of sales at Close Brothers Motor Finance, one of the UK's leading providers of motor finance. The company works with over 8,000 dealers and provides finance for new and used cars, LCVs, motorcycles, caravans and motorhomes. Go to closemotorfinance.co.uk to find out more.