The new edition of Car Dealer is available now – and it's brimming with automotive goodness!
Issue 180 is free to read and download – here's a taster of what we've got for you.
Car Dealer Live conference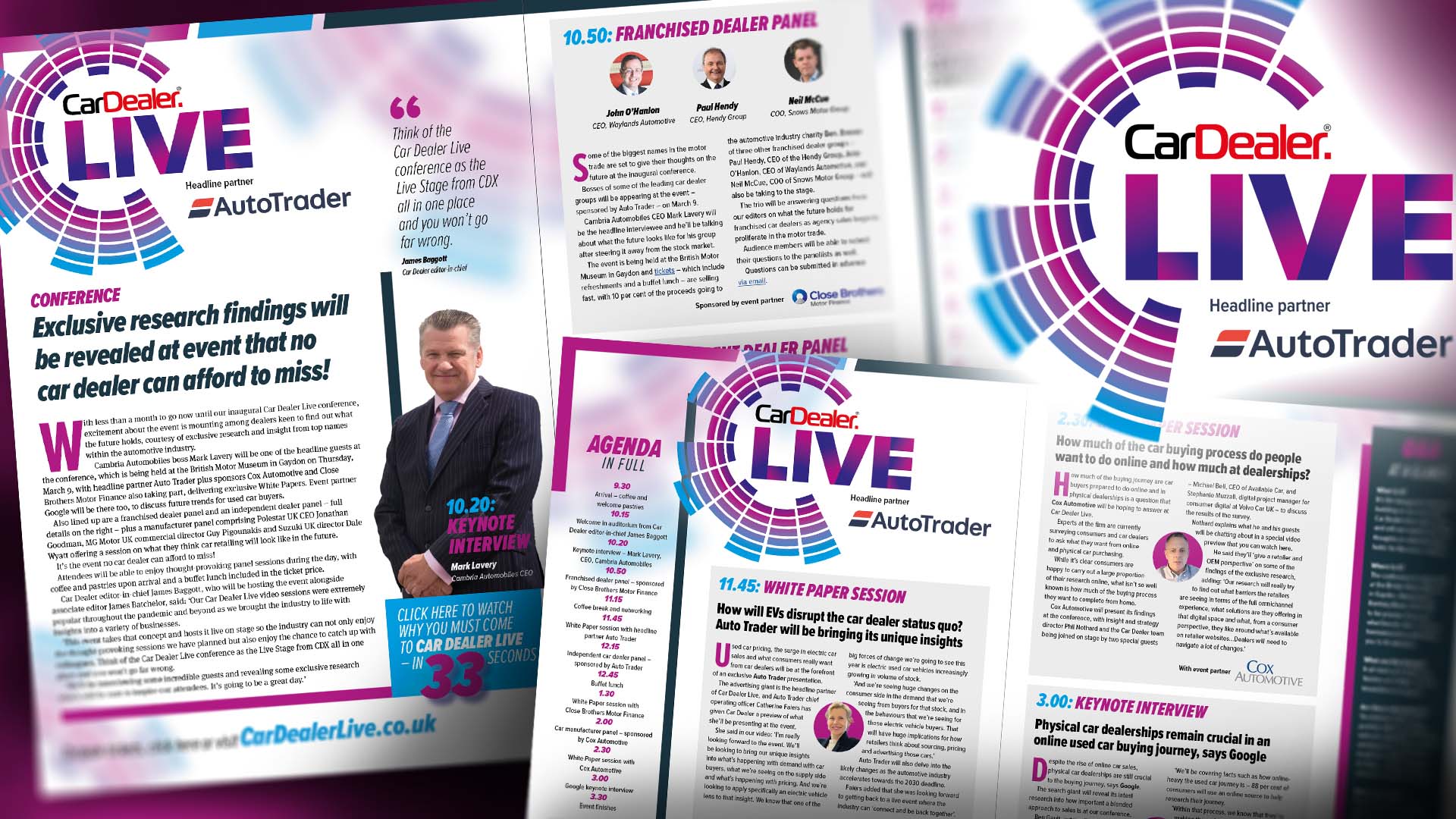 There's less than a month to go now before our inaugural Car Dealer Live conference is held at the British Motor Museum in Gaydon.

Inside the latest magazine is a four-page guide to what's lined up for attendees. It's going to be an unmissable event, with exclusive research and insight from top industry names.
Not got your ticket yet? You can still get some here – but hurry, hurry, hurry as they're going fast!
Investigation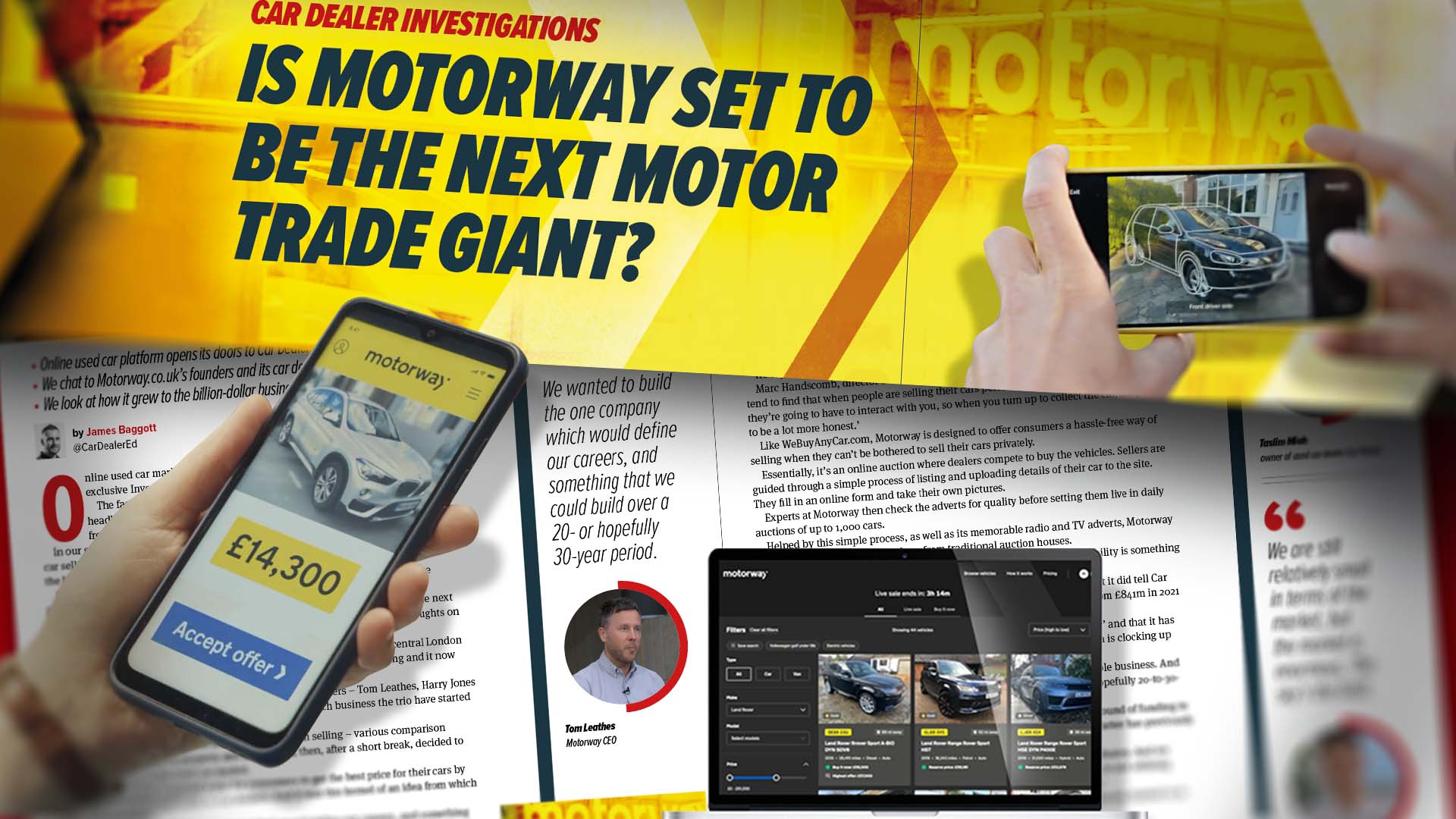 The online used car platform Motorway has grown to become a billion-dollar business in just six years.

What's the secret of its incredible success? The Motorway team tell us how they came up with the idea and what's next. Plus, we talk to dealers about why they like it so much.
Car Dealer Power 2023
It's time once again to sharpen your digital pens and rate the manufacturers and suppliers you do business with!
After being pushed back to the autumn in recent years because of the pandemic, Car Dealer Power is returning to its usual summer slot for 2023.
This is YOUR chance to have YOUR say on what it's like to represent YOUR car manufacturer partners. We'll also be looking to name the best suppliers as well as the Car of the Year.
Full details are in the magazine – and you can cast your vote here as well, with the awards poll closing on Sunday, May 21.
Dashboard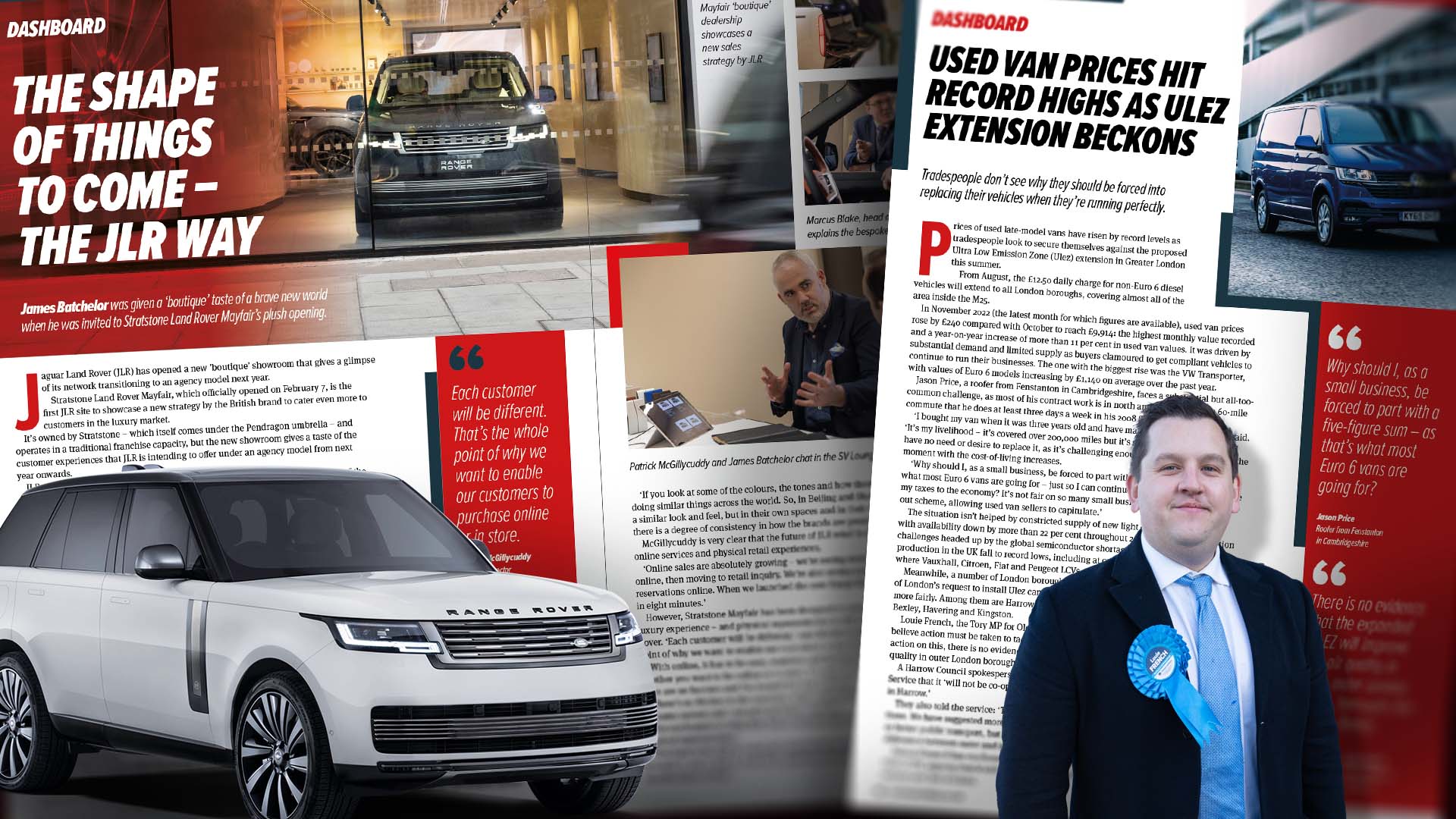 James Batchelor ventured up to the refined and affluent area of London that is Mayfair to check out JLR's 'boutique' showroom, which showcases how the manufacturer is looking to move to the agency model.
And with the Ulez set to be extended to cover most of the area inside the M25, we look at the knock-on effect it's already been having on the prices of used vans.
Forecourt
Our motoring experts James Batchelor, Jack Evans and Ted Welford were given the keys to four of the latest models to put them through their paces.
Discover what they made of the Vauxhall Astra GSe, MG5 and Mercedes-Benz EQE as well as our cover star the Peugeot 408!
Features
When we initially ran a story about a charity seeking pick-up trucks to help Ukraine in its war against Russia, little did we know how things would mushroom…
While appearing on a Car Dealer podcast, SUV Prestige dealer principal Steve Dhesi made an on-air pledge to donate a Mitsubishi L200 – and Richard Lofthouse's special feature about what happened next is simply a must-read!
We also focus once again on some of the latest cool products that are on the market.
Columns
Associate editor James Batchelor says people should think twice before they point and laugh at Mazda for its enthusiastic swerve to derv
Meanwhile, our mystery columnist Big Mike recalls an international dealer launch that took a curious twist in the Sierra Nevada mountain range
Round-ups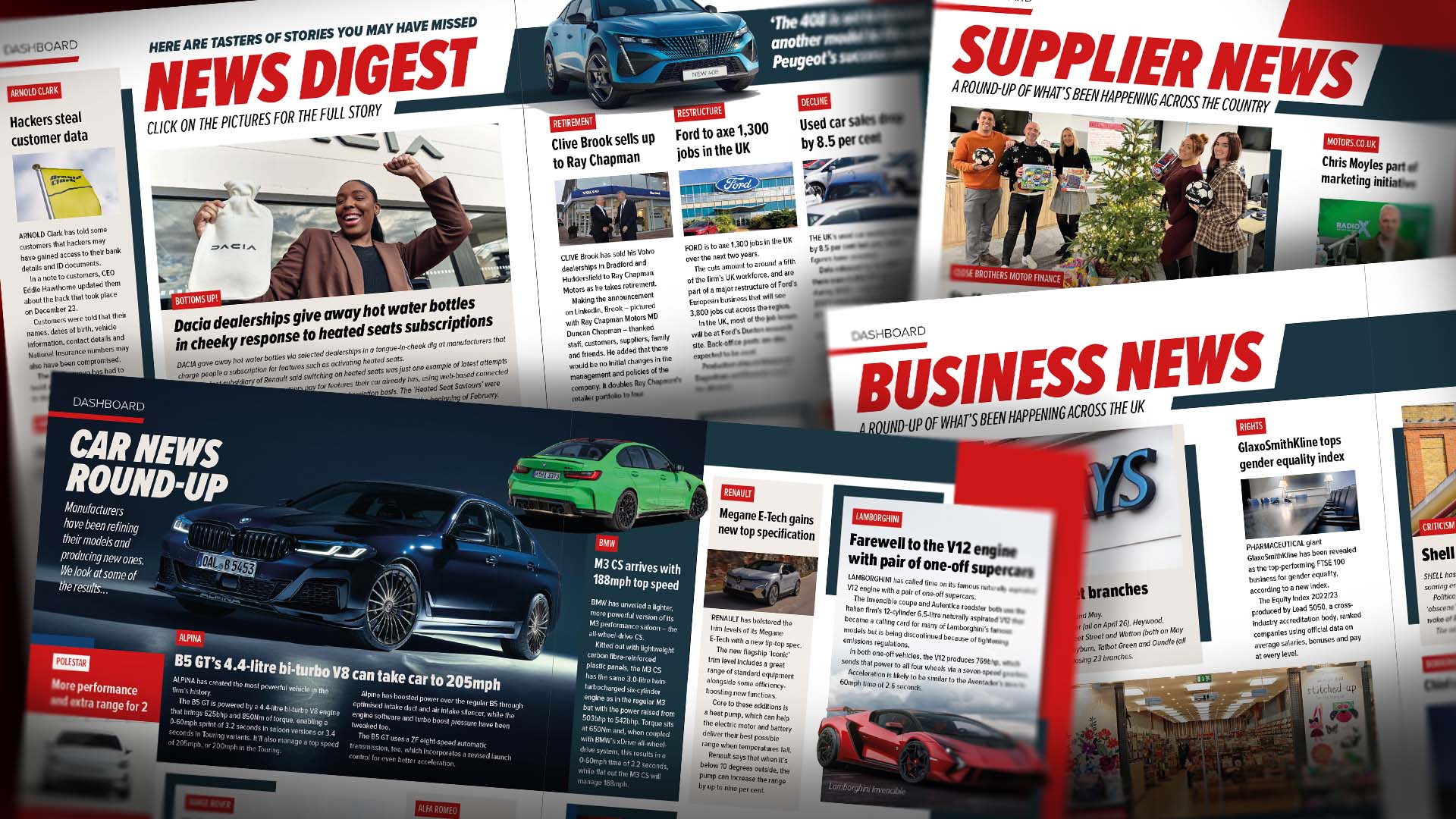 Our four-page news digest has some of the meatiest automotive stories in bite-sized form. You can also read the full versions of the articles by clicking on the boxes.
There are business and supplier updates as well, plus a look at what car manufacturers have been up to.
Also inside…
In our regular finance section, First Response digital marketer Richard Pygott ponders the challenges and hurdles that lie ahead if the government sticks to its 2030 ban on sales of new petrol and diesel cars.
Meanwhile, in this month's Feedback, dealers discuss the current state of affairs regarding sales and margins. There are also more car industry memes to tickle your ribs.
And this is just a taster of what's in the 56 jam-packed pages of issue 180 of Car Dealer – which you can read and download for free via Issuu.
How to read the magazine
The easiest way to access it all is by clicking on the digital magazine at the top of this page.
For a quick video on how simple it is to read Car Dealer online, click below:
Want to read it on your mobile device? It's also viewable in the Issuu app, both for iOS and Android. Switch your notifications on and you'll get an alert every time a new magazine is published.
Want to make sure you're kept informed about new magazines being published? Subscribe to our email newsletter and you'll be contacted as soon as each issue is released.
And for daily breaking news updates, join our WhatsApp group to get them sent straight to your phone. Email us via the website here to get a link to join.