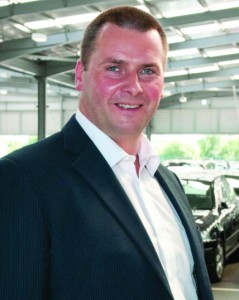 DEALER margin is under pressure as savvy customers price check vehicles in an attempt to get the lowest price.
Managing operating costs is more important than ever, resulting in a new focus upon stocking costs and stocking days.
SMA Vehicle Remarketing has launched a fresh new approach to help manage the risk of excessive stocking days – 'Buy Back'.

Market forces and economic changes all have an effect on customer's appetite to purchase, which has a direct relationship with the length of time stock is held, says SMA Vehicle Remarketing. Research suggests stock is, on average, held for 55 days, with vehicles sold in the first 30 days exceeding budget by over 25 per cent and those sold after 45 days failing to make budget. Holding cars in stock for any length of time presents a very real cost to the dealer.
SMA national operations director Eddie Thomson (pictured) says: 'Many dealers we speak to are keen to reduce their average stocking days. However, the statistics reveal that in the past year, the average stock turn fell by just one day.
'We are seeking to help by encouraging buyers and vendors to take advantage of our on-site vehicle-preparation facilities and now we are adding to this by launching a new support tool in Buy Back.
'Dealers can now buy a Buy Back guarantee for stock purchased at SMA Vehicle Remarketing. For a one-off fee, buyers can mitigate the risk of exceeding the 45-day industry benchmark. Stock can simply be returned to SMA between 45 and 50 calendar days of the date of sale and the dealer will be refunded 95 per cent of the vehicle purchase price or 95 per cent of CAP Clean, whichever is the lower. The majority of stock offered by SMA qualifies for the initiative.

'In a highly-price sensitive market, we are offering certainty. The feedback to this risk-mitigating product has been very encouraging from buyers and vendors and we expect there to be strong levels of take-up.'
MORE: Why no-one can afford to miss the Car Dealer Conference & Expo
MORE: Motorline buys Maserati dealership from Arrow
MORE: Mill Garages celebrating 50 years of selling Volvos
On superunleaded.com – McLaren Unveils Its New Baby 570S Supercar