LISTED motor retailer Cambria Automobiles has delivered a solid set of results for the year ending August 31.
Underlying profit before tax stood at £11.3m, up from £10.6m in the previous year, a 6.6 per cent increase.
Although new vehicle sales were down 11.7 per cent, the impact of this was offset by a 25.7 per cent increase in profit per unit.

Used vehicle sales were also down – by 6.1 per cent, but this was offset by a 5.6 per cent improvement in profit per car.
Aftersales revenues were up nine per cent and there were significant developments in the group's franchising strategy, with 2018 set to get off to an exciting start for the company.
A McLaren dealership is due to open in Hatfield in January, and two Cambria Bentley dealerships will begin trading in the same month.
For the year ended August 31, revenue totalled £644.3 million (up 4.9 per cent on the figure for the previous year of £614.2 million); underlying operating profit stood at £11.8 million (up 5.4 per cent); and underlying profit before tax stood at £11.3 million.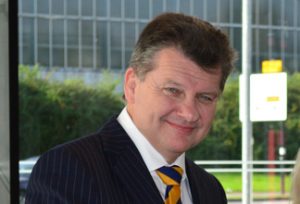 Mark Lavery, pctured, chief executive officer of Cambria, said: 'The group has delivered a solid set of results for the full year.
'The first half of the financial year was strong and we reported significant year-on-year growth. The board remains cautious on the overall consumer outlook.
'As has been well documented, the trading environment in the period post-March has been more challenging, particularly in the new car arena which has been impacted by a number of factors.
'Our strategy for the 2016/17 financial year was to integrate the acquired businesses from last year and progress the property investments needed to bring those businesses up to manufacturer standards. We have made good progress in this regard during the year.
'I am delighted that we have been given the opportunity to develop facilities for such prestigious brands as McLaren and Bentley in addition to our already excellent portfolio of brand partners.
'This is an exciting development for the group and we are looking forward to working with our new partners.
'Post the period end, trading in September and October was in line with the board's expectations, but behind the prior year as a result of the weaker new car market.
'The board remains confident that Cambria's resilient business model, focus on delivering a superior guest experience and financing arrangements leave it well positioned to take advantage of any opportunities that the current economic uncertainty could provide.'
MORE: RAC Dealer Network gets multi-million-pound IT investment
MORE: Pay and commission restructured as Inchcape takes a new approach
MORE: 50 years of VW ownership is celebrated
On SuperUnleaded.com: Lamborghini's latest concept is the electric hypercar of the future