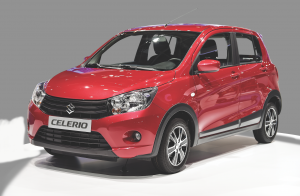 SUZUKI Celerios are now being returned to customers after the manufacturer issued a safety recall earlier this month.
Following a loss of braking experienced by Autocar magazine when carrying out an emergency braking test from high speed on a private road test facility at the end of January, Suzuki carried out an immediate investigation into the cause.
The recall related to a possible fault in the brake pedal release mechanism; but yesterday, the company announced that a solution to the problem had been found.

A shipment of modified brake components for customers' vehicles has recently been issued to the dealer network.
In a statement, Suzuki said: 'The rectification takes 30 minutes to complete and vehicles are already in the process of being returned to customers. Dealer demonstrations and the supply of new Celerios to dealers has also now resumed.
'Safety is of the utmost importance to Suzuki and we would again like to take this opportunity to apologise to our customers and also thank them for their understanding and patience over the last three weeks.'
Check out the links below to see how Car Dealer has covered this story during February.

MORE: Suzuki withdraws new Celerio from sale
MORE: 'Hourly updates' after safety recall
MORE: New brake parts arriving 'in the coming weeks