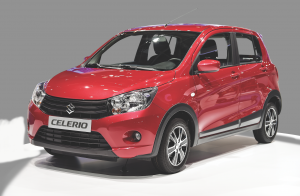 SUZUKI has issued an update about its new A-segment supermini Celerio, which was withdrawn from sale in the UK just a day after going on sale here.
The car was taken off the market after a fault with the brakes was discovered during testing by the magazines Autocar and What Car? at Millbrook Proving Ground, Bedford.
Subjected to an emergency stop, carried out from 80mph, the Celerio's brakes simply failed to work. Autocar reported at the time: 'The brake pedal became stuck in the fully depressed position and had no effect on the Suzuki's speed. No braking effort could be exerted by forcing the pedal up and reapplying it.'

The manufacturer issued a safety recall on February 2 and suspended sales of the vehicle in the UK. All dealers were immediately notified so they could contact customers who had taken delivery of their cars.
Yesterday, Suzuki said that after the tests identified the problem, it carried out an immediate investigation into the cause.
A statement said: 'The safety recall relates to a possible fault in the brake pedal release mechanism. A rectification by Suzuki Motor Corporation is currently being implemented and delivery of modified brake components is expected in the coming weeks.
'Safety is of the utmost importance to Suzuki and it expects to return vehicles to customers as soon as is possible. Suzuki would like to take this opportunity to apologise to its customers and thank them for their understanding and patience regarding this issue.'

So although 'the coming weeks' sounds perhaps a little vague, it would appear that a solution to the problem is in sight.
MORE: Suzuki withdraws new Celerio from sale
MORE: Celerio – 'we're getting hourly updates'
MORE: Suzuki's second Bristol showroom is open for business