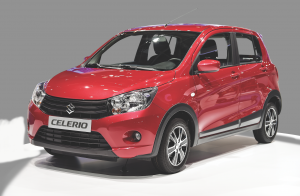 SUZUKI Celerio sales have been stopped in the UK with immediate effect.
And Celerio owners have been advised not to drive their cars.
Today's shock announcement came after two Celerios suffered total brake failure during testing by What Car? and Autocar.

The magazines are reporting that the loss of braking power occurred during 80mph deceleration tests at Millbrook Proving Ground.
A Suzuki GB statement released at lunchtime today said: 'Following a condition experienced when carrying out an emergency braking test by a journalist from Autocar magazine on January 30, Suzuki carried out an immediate investigation into the cause of this condition.
'As a direct result of this investigation and with immediate effect, Suzuki is recalling its UK Celerio models that went on official sale to the public on February 1. This safety recall relates to retraction of the brake pedal and affects right-hand drive vehicles for UK, Ireland, Australia and New Zealand.  It does not affect left-hand drive vehicles or other right-hand drive markets.
'Suzuki is directly contacting its customers via its dealer network and will be providing a loan vehicle to them until full safety checks have been completed. UK sales of the Celerio model have now been temporarily suspended.

'The condition was experienced during an emergency brake test from very high speed and was conducted several times on a private road test facility. This test forms a part of the full test procedure carried out by What Car? and Autocar magazines. The Celerio model has been on sale in India and Thailand since 2014.'
Dealers have also been instructed by Suzuki not to conduct test drives.
The cause of the braking failure is currently being investigated by both Suzuki GB and Suzuki Motor Corporation in Japan.
The magazines report the issue came to light during a routine braking test. They wrote: 'One section of this test is an emergency stop, carried out from 80mph. This allows for assessment of the car's behaviour during heavy braking, the functionality of its stability systems and the stopping distance itself.
'Several acceleration tests had been carried out on the first Suzuki Celerio, prior to the 80mph emergency braking test. Ahead of that test a more gentle braking assessment had been completed successfully, to assess the surface conditions and general behaviour of the vehicle.
'During the first full-force braking test, however, all stopping power was immediately lost upon application of the brakes. The brake pedal became stuck in the fully depressed position and had no effect on the Suzuki's speed. No braking effort could be exerted by forcing the pedal up and reapplying it.
'The combined use of the handbrake and engine braking allowed for controlled deceleration of the Celerio to a safe stop.
'Suzuki immediately arranged for collection of the car to inspect it and identify the nature of the failure. The company also delivered a second Celerio, for pre-arranged testing to continue. The same test resulted in the braking failure repeating itself again.'
Car Dealer's Sophie Williamson-Stothert drove the Celerio at its UK launch only last month.
She said: 'The Suzuki Celerio is a new A-segment supermini designed to offer drivers more for their money. The Celerio won't win your heart with first impressions, though – it's not the most exciting car to drive in its segment and it's certainly not the best looking.
'But that is irrelevant, really. The Celerio is designed to offer pure value for money, and with that quality being its biggest selling point, the little Suzuki outshines its rivals – no other A-segment car can offer the same level of equipment at such a small price.
'Production of Suzuki's other models – the Alto, Splash, SX4 and Grand Vitara – is set come to a close next month and to ensure their customers return to the dealerships, the brand is putting all of its eggs into this little hatchback.'
MORE: Jaguar XE wins beauty contest