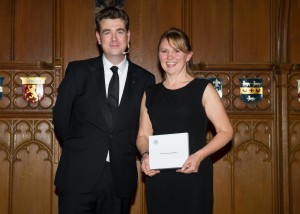 FAMILY-owned and run Swansway Group has won the Volkswagen Retail Group of the Year Award 2014.
Swansway owns and runs Crewe Volkswagen and Wrexham Volkswagen, placed first and second respectively in the Volkswagen One Business Awards.
This has never been done by any dealer group before and is an incredible achievement, especially when you consider that the group only operates the two sites out the 200 Volkswagen centres in the UK.

The Volkswagen One Business Awards are a celebration of the balanced scorecard results for 2014, which means outstanding performance in all areas, all of the time.
John Smyth, Swansway Group director, said: 'What a result! I am absolutely delighted for the group.
'Winning a manufacturer's award takes hard work and determination from the teams involved, all day, every day; so I want to say massive congratulations to Ben Gilbert and his Crewe team and Jane and her Wrexham family.'
Ben Gilbert, brand manager at the Crewe dealership and Jane Hargreaves, brand manager of the Wrexham site, were naturally delighted with their success.

Jane said: 'My team will be thrilled with this result and I want to thank them for all their hard work.'
Crewe Volkswagen had been sitting in the number one slot, but as Ben Gilbert commented it wasn't a foregone conclusion. 'Until our name was called I still felt anything could have happened. Such a great team effort, we're all delighted.'
Our picture shows Alex Smith, Volkswagen UK brand director, with Jane Hargreaves.
MORE: Peugeot: We're regaining our former reputation for quality
MORE: Back on dry land, the cars that spent three weeks in the Solent