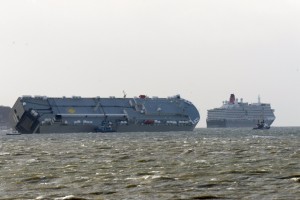 SOME of the cars which were inside the rescued cargo ship Hoegh Osaka have now been retrieved from the vessel, having suffered varying degrees of damage.
The 51,000-tonne ship was run aground off the South Coast earlier this month and spent almost three weeks stranded on a sandbank in the Solent.
It ran into trouble when an excavator on board came loose and punched a hole in the hull.

The first batch of #SuperCar to be taken of the #HoeghOsaka #RangeRover #Porsche pic.twitter.com/roh4kiqgoB

— steve.c (@CarSnapped) January 27, 2015
The vessel had a cargo of 1,400 cars and more than 100 pieces of construction kit on board. The vehicles inside included 1,200 Jaguar and Land Rover vehicles and 65 Minis.
A spokesman for Hoegh Autoliners said that most of the cars had survived without suffering any damage, while others had sustained minor dents and scratches.
A small number of the vehicles were thought to have spent time under water.
The full discharge process is expected to have been completed by the end of this week.

MORE: Stricken carrier 'might not be moved for a month'
MORE: Salvage teams begin their investigation
MORE: There's even a Roller on board