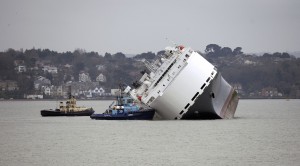 SALVAGE workers have started their investigation aboard the car transporter ship that has been stranded on a sandbank off the South Coast of England since Saturday night.
The vessel, the 51,000-tonne Hoegh Osaka, is listing at about 45 degrees in the Solent after its pilot encountered difficulties shortly after beginning a voyage from Southampton to the German port of Bremerhaven.
The vessel is carrying a range of vehicles with an estimated value of £35mil including about 1,200 cars manufactured by Jaguar Land Rover, 65 Minis and one Rolls-Royce Wraith. In addition, there are more than 100 pieces of construction equipment produced by JCB, which were on their way to the Middle East.

A Jaguar and Land Rover spokesman said, as reported in the Daily Mail: 'We can confirm that we do have roughly 1,200 Jaguar and Land Rover products aboard the stricken ship.
'Until such time as the salvage operation can safely begin, we can tell you nothing further about the implications for the cargo.
'However, the most important consideration is that the crew are safe and well.'
It apparently began to list as it left the port of Southampton, forcing the captain and pilot to take the emergency action of beaching it on the sandbank – a well-known landmark in the Solent and the scene of an annual cricket match between two sailing clubs when it is exposed by low spring tides.

The salvage operation, being undertaken by the company Svitzer, is expected to take several weeks. For safety reasons, a 200-metre exclusion zone has been established around the grounded vessel.
A spokesman for Hoegh Autoliners, the owners of the ship, confirmed the appointment of Svitzer and said that a plan would be drawn up for the salvage operation, which could take weeks.
As we reported yesterday, the ship's 25 crew members were rescued from the ship by the RNLI and local coastguards. One was taken to Queen Alexandra Hospital in Portsmouth with non life-threatening injuries.
MORE: Record sales year for Rolls-Royce
MORE: UK's final Cadillac dealership closes