Great to drive even with the boss alongside
THE first time I finally got to drive the S7 my excitement was tempered slightly by the fact that my boss was in the car with me.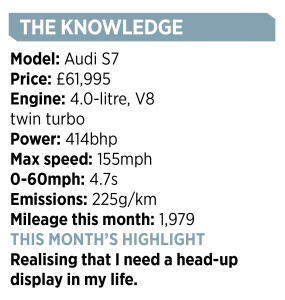 It was a bit like going on a date with a Page 3 girl and having her dad come along as a chaperone. I was driving with the handbrake on, metaphorically speaking.

Still, the sleek S7 is a beautiful machine that combines style and quality to great effect.
The sweeping design looks stunning and it's no surprise there's been a queue to get a drive.
The quality of the interior matches the outside and Audi isn't wrong when it talks about 'immersing yourself in total comfort'.
It's got all the things you would expect, plus a couple of things I really like. The 'phone box', which charges your phone and lets you use it, is a nice touch and I now need a head-up display in my life.

But this classy coupe is not all about the looks and the S7 can certainly perform.
With plenty of room inside and a big boot, the S7 really does combine luxurious practicality with exciting performance.