I'VE managed to prise the keys to the ST from Baggott's sweaty palms and have had it for four weeks now. Tomorrow I head off for 1,400 miles in it, supporting Bangers4BEN, and I can't wait. So, in four weeks of driving, what is good and bad?
Good: Fast Fords. Everyone loves them, they look great and normally drive far better than the '0-60' paper time suggest. This is no different. A massive step up on the last-generation ST in build, drive and quality.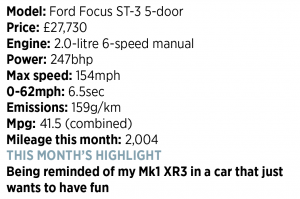 Bad: Has a very firm ride and makes long journeys a little tiring, which is my only worry about taking it across Europe! It's not a GT, it's a hot hatch, so this may push the mature buyer towards a Golf GTI, which isn't as firm.

Good: It sounds fantastic when you plant the go-faster pedal. Sadly, this is artificially piped into the cabin, but who cares?
Bad: It's only in five-door trim. Fast Fords should be three-door.
Good: Brilliant door protectors that pop out when you open the door to stop you damaging the door edge.
Bad: It brings out the boy racer in you. You simply can't help having fun. It handles like hot hatches of old and positively encourages you to 'play', the traction allows just enough wheel spin, and it reminds me of my Mk1 XR3. (OK, so this isn't really bad.)

Summary: So far – good, very, very good. Let's see if 1,400 miles change my mind…
Andy Entwistle