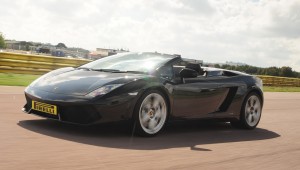 I COULD hear the exhaust before I saw the car and, soon after the initial roaring sound, there followed the beautiful dark grey Lamborghini Gallardo, which turned the corner and pulled up in the waiting bay at the airport where I awaited my taxi.
Unfortunately for me, this wasn't the vehicle that would be taking me to the office, as I forthwith received a text message advising me that my family saloon would be with me shortly!
Having also arrived by taxi at East Midlands Airport before my flight, which involved walking through a crowded car park full of cars, and having walked out of the terminal building upon arrival at the destination airport and making my way to a further taxi, it came to mind (and this is purely assumption-based) that I must have seen well over 100 cars before that little beauty caught my eye.

The really interesting point is if you were to ask me how many makes and manufacturers of cars I remember seeing on my commute, the answer would be just one!
I find it quite incredible, on considering this commute in further detail, as I imagine – and you would have thought – that I would have noticed more cars than this. But when analysing this example I would say the same could be said for many things that we come into contact with, where they are in that mass population and existence: they all seem the same or they fail to have an impact on us.
Consider supermarkets and how many there are to choose from when purchasing our groceries, etc.
Just on my own journey home from work I have a choice of at least six different ones to visit, all of which are fully stocked with the normal daily amenities needed, such as milk, bread, vegetables, et al.

The point is, I have no special affiliation with any particular supermarket. As long as I can purchase what I need, it is irrelevant to me whose pint of milk or loaf of bread I purchase, as they all appear similar, with none standing out from the other.
While being ever more challenging and difficult, making sure that both your business and the products that you offer stand out to potential customers is of paramount importance if you want to build a successful business.
You can no longer rely on people giving 'word of mouth' referrals, sending e-mails or monthly communications to previous customers expecting them to come back to you, as the volume of choice and the number of competitors doing the same thing as you makes it hard for customers to remember you.
Referring back to the number of cars I can remember from my visit, you can use this as a starting point to begin looking at whether your products and business stand out to new and old customers.
If the answer is no, you don't stand out, then start doing something about it instead of accepting mediocrity, as nobody else will!
Who is Jonathan Such?
Such is head of sales for First Response Finance. You can contact him on 07917 781608 or email [email protected]