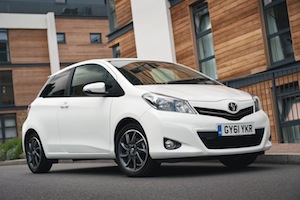 TOYOTA is recalling roughly 174,000 vehicles globally, including the Yaris supermini due to a power steering issue.
Due to a glitch in the electric power steering system, which could cause the steering to become heavy, Toyota has registered a global recall today with the VOSA for some of its Yaris and Verso-S models.
The recall affects 5,409 UK-registered third-generation Yaris models and the Verso-S mini-MPV built between November 2010 and March 2012.

The leading carmaker is set to recall around 130,000 vehicles in Japan, a further 7,050 in Germany and roughly 7,000 in France, as well as in several other countries.
In a statement, Toyota said: 'All vehicles affected by this issue are being recalled so that the electric power steering's electronic control unit (ECU) can be replaced.
'Vehicle owners will be contacted by Toyota GB within the coming weeks and asked to make an appointment to bring their car to their nearest Toyota centre, in accordance with VOSA guidelines. The where work will take between one and two hours to complete and will be carried out free of charge.'
According to Toyota, they have received four reports of the problem occurring in the UK but said no reports of accidents or injuries have been reported related to this issue.

This is the third serious problem in as many months for the Japanese marque as it issued a global recall of 3.4 million vehicles over an airbag defect in April and recalled 4,947 Prius models in June over a faulty   brake pressure accumulator.