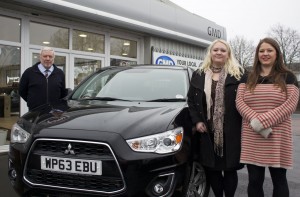 TWO new Mitsubishi dealerships are due to open in February as the franchise continues to grow in the UK.
GMD Mitsubishi will open on February 4 in Finchale Road, Durham, while Autoecosse Mitsubishi opens on February 10 in a newly refurbished old showroom and aftersales facility in Kingsway East, Dundee.
GMD Car Sales is an existing Fiat dealer while Autoecosse sells Ssangyong, Great Wall and Subaru.

Family-run business GMD Car Sales, which was established in 1989 and has been at the Finchale Road site since 2002, is taking on the Mitsubishi franchise in an exciting new expansion for the company.
The dealership, run by Managing Director Michael Sparks and his daughters Kate Sparks and Emma Clark, is currently undergoing a major renovation and plans have been submitted for a new Mitsubishi showroom, which it is hoped will be completed by June.
Mr Sparks said: 'We are extremely excited to be joining Mitsubishi and we believe it will be a great partnership. We pride ourselves on customer service and we're looking forward to meeting Mitsubishi customers old and new. We have been selling cars in the local area for 15 years and we see ourselves as very much part of the community.'
Both dealerships join the Mitsubishi network at an exciting time for the brand. Mitsubishi Motors in the UK was the fastest growing mainstream car brand of 2013, with figures from the Society of Motor Manufacturers and Traders (SMMT) showing sales were up 38 per cent in 2013, compared with 2012.

Richard Lawson, who owns Autoecosse, has been in the motor trade since 1971 and previously ran a successful Mitsubishi dealership in Kirriemuir in the 1970s and 80s.
Richard, who founded Autoecosse in Dundee in 2005, said: 'We're really looking forward to opening our new Mitsubishi dealership. This site has been empty for three-and-a-half years so it's great news for the area that we have been able to regenerate it and create jobs.'
Richard's Co-Director and Mitsubishi Dealer Principal Tim Hancock is the driving force behind the new operation and will lead the development of the Mitsubishi brand in the region.
He said: 'We are all very enthusiastic about the potential in the area for the Mitsubishi brand – the range is fantastic, the quality is exceptional and we can market the models with great confidence.'
Tim has taken on new sales executives and technicians who are currently undergoing training and induction. Once the dealership is up and running he expects the number of Autoecosse staff to almost double from 16 to 30.
The picture on our home page shows chairman Richard Lawson and Dealer Principal Tim Hancock at Autoecosse Mitsubishi in Dundee
PHOTO CAPTION: From left, Managing Director Michael Sparks, Director Emma Clark and Director Kate Sparks at GMD Mitsubishi in Durham