AUDI has revealed its all-electric SUV at a glitzy world premiere in San Francisco.
Called the E-tron Quattro, it's one of the most tech-focussed cars on the market and has some unique features.
While buyers will be impressed with its range of more than 200 miles on a single charge, those who love high-tech kit will be wowed by its world-first video camera wing mirrors, six touchscreens and stylish LED lights.

It comes with Quattro all-wheel drive that its designers claim is better than any version used on an Audi before.
Homologation for the UK hasn't been completed yet, but Audi estimates it'll have a range of 248 miles in real-world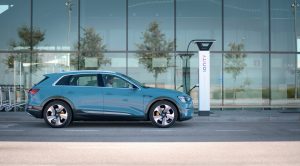 conditions. That puts it up against premium electric car rivals the Tesla Model X and Jaguar I-Pace for range, however higher capacity 100D Teslas and Mercedes's EQC will exceed this.
Although specific details for the UK are yet to be confirmed, prices will start at around £70,805 when it goes on sale in November. Audi has said that some European customers will have theirs before the end of 2018.
The electric car is capable of 0-60mph in 5.7 seconds and it can hit a limited top speed of 124mph thanks to its 402bhp (300kW) power output and torque of 664Nm, which is available almost instantly.

The E-tron can be charged to 80 per cent in 30 minutes using a fast charger and sets a new standard with its ability to charge using a high-powered 150kW unit. At home, it can charge at 11kW in around eight hours and has the option to charge at 22kW too.
Carefully thought through
As standard, the car gets a CCS rapid charger port on the driver's side of the car, but buyers can choose to add a second AC port on the passenger side so they're never caught out by an awkward charger.
Features such as this have been carefully thought through to make it one of the most practical electric cars on the market. The ports are hidden behind a discreet cover, which moves sideways rather than out – making it easier to charge even in a tight garage.
The car's cameras make it possible to see a 360-degree recreation of the vehicle and its surroundings on the main
infotainment touchscreen. The high-definition seven-inch OLED touchscreens in the door, connected to the side cameras, can also be easily adjusted too.
While the E-tron doesn't look dissimilar to other SUVs in the Audi range, the aerodynamics have been key in the design and engineering process.
As standard, it gets air suspension that's capable of altering the height of the car depending on the speed. The roofline, body panels and wheel designs all help to reduce drag and increase range.
Orange touches are unique to this car, on the seats, brake calipers and E-tron logo, with only this, the partially-closed grille and the clever light signatures distinguishing this car as an EV.
The small SUV will face tough competition from the Tesla Model X, Jaguar I-Pace and Mercedes EQC but it has all the right credentials in the practical family car stakes with five seats, 600 litres of boot space and a further 60 litres of storage space under the bonnet.
MORE: Guildford Audi undergoes £3m refurbishment
MORE: Audi scores as Spurs' official car partner