DATA from the Auto Trader Retail Price Index shows that the average price of a second-hand car reached a record high of £12,853 in September, up five per cent year-on-year.
It follows a period of sustained growth for used prices, which have increased twice as fast than new cars since the start of the decade.
The average price of a used car has risen from £8,997 in 2011, a significant 42 per cent increase in just seven years. However, the average sticker price of a new car has grown just 19 per cent during the same period (£21,911 to £26,105).

The growth in average used prices can be attributed to knock-on effects of the rise in new car finance, which in 2017 accounted for 88 per cent of all new cars bought in the UK, compared to circa 50 per cent of sales a decade previously.
With the average two to three-year ownership cycle of a Personal Contract Purchase (PCP), there has been an increase in younger, more advanced and, crucially, more valuable, second-hand cars entering the market, driving average prices up.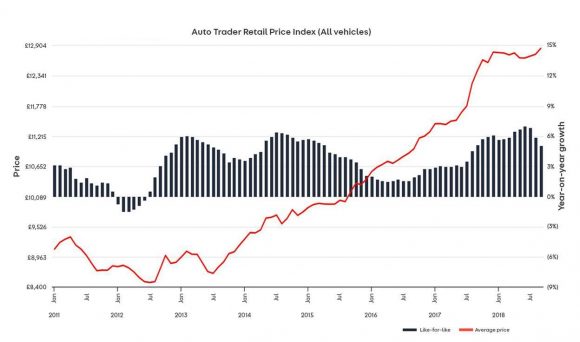 Auto Trader data reveals that these modern second-hand cars are increasing in popularity, helping to drive overall used car sales volumes in recent years. Over the past five years, sales of used cars aged less than three years old have increased by nearly a third (32 per cent), whilst sales of five-year-old and ten year-old-cars have dropped by three per cent and seven per cent respectively.
In terms of specific fuel types, the average price of a second-hand diesel in September was £14,551, a four per cent like-for-like increase on the same period last year. For a used petrol car, consumers paid £11,043 on average last month, which was a six per cent increase year-on-year.

At a time when alternatively fuelled vehicles (AFVs) are the only fuel type to record growth (3.9 per cent) in the new car market, second-hand AFVs are continuing to reach record levels of popularity.
In September zero emission vehicles (including diesel and petrol hybrids, electric, bi-fuel, and petrol ethanol) accounted for six per cent of all fuel related searches on its marketplace. It marks a two per cent increase in just two months. The sudden growth in popularity is significant as AFV related searches remained flat at four per cent between July 2017 and July 2018.
Diesels remain a popular option on Auto Trader though with 48 per cent of all fuel related searches last month. Petrol however saw a slight fall in searches, dropping from 46 per cent of searches in August, to 45 per cent in September.
Auto Trader's director of commercial products Karolina Edwards-Smajda said: 'Whether it's the ongoing Brexit and fuel type anxieties denting consumer confidence, or new WLTP regulations, the industry has faced unprecedented challenges this year. However, our data highlights just how resilient the used car market has been despite these turbulences and importantly, the opportunities available for retailers.
'Whilst it might only currently account for around 35 per cent of purchases, as younger, more desirable and more valuable vehicles reach forecourts, we can expect the appetite for used car finance to surge. Car buyers often complain that they're put off by the complex and confusing finance process, so simplifying it and using clear, jargon-free language, will be the key to capitalising on the increase in consumers looking to pay monthly for their next car.'
MORE: Volume brands beat premium in July's used car market says Auto Trader0
MORE: Used Car Awards 2018: Deadline day for entries and nominations is tomorrow!
MORE: Planning a Christmas party? Join us at The Brewery on November 26!