Plummeting used electric car values are in danger of knocking the wind out of the sails of the new EV market, warn experts.
Speaking to Car Dealer, pricing experts and retailers say they are concerned about the dramatic drops EVs have suffered in recent months.
The falling values are already putting some car dealers off restocking electric cars and making finance – based on the future values of these cars – more expensive to obtain.

Both trade valuations firm Cap HPI and retail pricing experts Auto Trader have reported worrying falls in used EV prices in recent weeks. 
Auto Trader said electric car values dropped -2.1 per cent in January compared to December – and this is against a 0.2 per cent rise in used cars in the same period.
Auto Trader's Ian Plummer said: 'The fall in used EV prices is concerning. 

'It has the very real potential of impacting confidence in the equity of the asset consumers are buying, as well as retailers' confidence in their ability to sell them successfully.
'The real concern, however, is the knock-on effect on EV residual values. 
'Since we buy circa 90 per cent of new cars on finance, we depend on strong and stable RVs to underpin the monthly payments we use to access new cars, all the more so since the price of a new EV is considerably higher than the average new petrol or diesel car. 
'If used EVs sneeze, new EVs could catch a cold.'
Meanwhile, Cap HPI told Car Dealer that the 0.1 per cent rise in used car prices it recorded in January would have been 0.5 per cent had it not been for the poor performance of electric cars.
The trade valuations firm reported EVs fell -6.6 per cent in January compared to the previous month or an average of £2,050. It looks likely February will see similar drops.
As reported by Car Dealer, some electric car prices dropped by more than £5,000 during the month.
Used Tesla Model Ys lost 11.1 per cent, or £5,500, in January while one-year-old Jaguar I-Pace prices slipped by 10.5 per cent, or £5,020.
January electric car price falls
Source: Cap HPI data. January 2023 prices compared to December 2022
Mini Cooper Electric – down 11.5%, -£2,917
Tesla Model Y – down 11.1%, -£5,500
Hyundai Ioniq – down 10.6%, -£2,375
Nissan Leaf – down 10.6%, -£2,407
Tesla Model 3 – down 10.5%, -£3,825
Jaguar I-Pace – down 10.3%, -£5,020
BMW i3 – down 9.3%, -£2,489
Renault Zoe – down 8.7%, -£1,640
Polestar 2 – down 8.7%, -£3,595
Audi e-tron – down 8.4%, -£4,060
Cap HPI director of valuations Derren Martin said: 'EV values are continuing to drop currently and until retailers sell the stocks they are carrying and choose to purchase more, these car values will remain under pressure. 
'At some point in the not too distant future, many of these will look reasonably priced versus petrol and diesel equivalents – some do already.'
Some car dealers have decided not to stock used EVs until the prices level out – helping precipitate the downwards trend.
Umesh Samani, boss of Specialist Cars in Stoke, and the chairman of the Independent Motor Dealers Association, added: 'EV has been worrying for me for some time and I'd decided not to buy any, so I'm glad about the current drastic price drops that I don't have a few on the forecourt.
'I believe the high prices have always been artificially high, maybe generated by the manufacturers to keep the RVs and customer confidence up. The current price drops are merely a realignment of their true current values. 
'Maybe once the market has stabilised for EVs, the values may start to go up a little as demand starts for them at realistic and affordable prices.'
Suzuki and MG dealer Robin Luscombe added: 'Used EVs increased in price significantly during late 2021 and early 2022, due to lack of supply of new cars, and I would suggest they will return to late 2020 values and depreciate in normal terms from there.'
Hendy boss Paul Hendy told Car Dealer he was treating EVs 'with caution', while Nigel Hurley, CEO of used car supermarket Carshop, said he thought there were a number of problems dragging EV prices down.
Both Hendy and Hurley will be appearing on stage at the forthcoming Car Dealer Live conference on March 9 at the British Motor Museum at Gaydon.
Hurley said: 'We believe everyone has been caught out by EV prices dropping, and now we are in a vicious circle of dealers having no confidence to bid combined with dwindling residual values.  
'This has resulted in a huge, stagnant, depreciating swathe of stock that both customers and dealers are nervous to get involved with.  
'Everyone associated with the trade knows that they will find a level, however, what is different to historic problematic areas of stock is that it's not only price we have to battle, but also a culture shift to get customers excited about this product. 
'A further consideration is the reluctance to buy EV for cash in case another wave of heavy price reductions is introduced by manufacturers following Tesla's behaviour.'
Tesla drastically dropped prices of its new cars two weeks into January which has caused residual values of its models to drop even more than other EVs. The Tesla Model 3 dropped more than £13k in the four months to the end of January.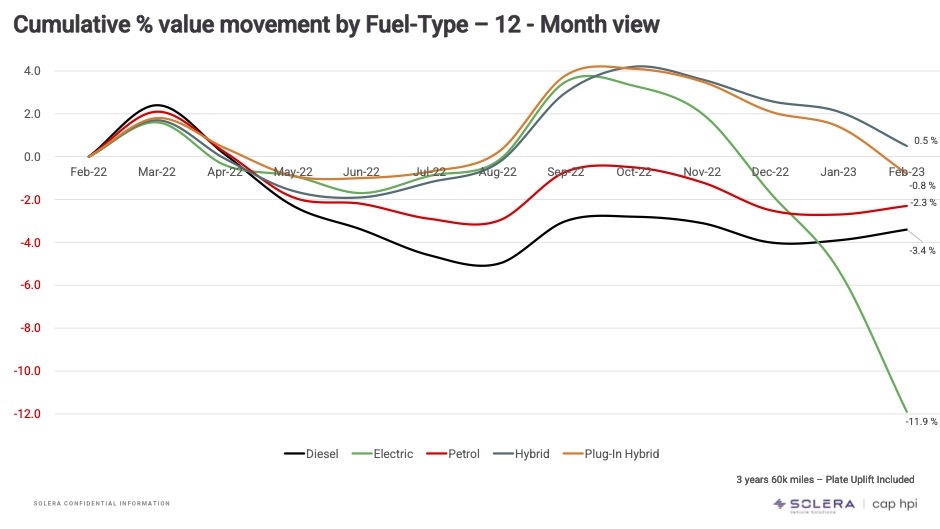 Jim Holder, editorial director of What Car? believes that falling EV values could undermine the transition to electric.
He told Car Dealer: 'Used EV prices plummeting has to be a concern – like it or not, the transition is happening, but it needs to be underpinned by a vibrant used market that is led by customer demand. 
'Negative headlines permeate well beyond the trade – with the loss of incentives, serious concerns about the charging infrastructure, a focus on rising prices and concerns about residual values only serve to undermine that transition.'
Shoreham Vehicle Auctions boss Alex Wright also thinks the negative headlines are not helping.
He added: 'A lot of recent bad press hasn't helped the image of EVs. High profile headlines have been created by the anti EV lobby which have damaged consumer confidence in moving to an electric car. 
'However, as more drivers get behind the wheel of a car, charging infrastructure improves and range anxiety becomes a thing of the past, we believe the perception of EVs in the new and used markets will quickly change.'
While the headlines certainly don't help, it's hard to argue with the fact electric car prices are falling far faster than their petrol and diesel equivalents. 
Auto Trader's Plummer thinks more intervention is needed from the government to help drive demand. 
'To help correct this trend, and to avoid more than just a small pothole on the road to 2030, more action will be required from both the government and industry,' he said.
'Encouraging car buyers into used EVs through incentives, marketing and education to demystify them will be critical.'
Motorway.co.uk founder and CEO Tom Leathes said that the rapid shifts in EV pricing recently had mainly been caused by Tesla.
He added: 'While rapid shifts like this can sometimes cause uncertainty, we expect them to normalise in the coming months, which will bring much more confidence to the used EV space, both for dealers and consumers.'
However, Cargurus expert Kevin Roberts said he thinks EV prices will be 'volatile' for some time to come, especially compared to petrol and diesel vehicles.
He said: 'The uncertainty around how to gauge the quality of the battery pack and the likelihood of needed battery replacement at some point in the vehicle's life creates pricing uncertainty. 
'Recent OEM price cuts have created another level of pricing uncertainty in the EV space.'
---
Car Dealer Live – the future of the car dealer – exclusive conference features talks from leading car dealers, Google and Auto Trader among much more. Find out the full event details and book tickets.