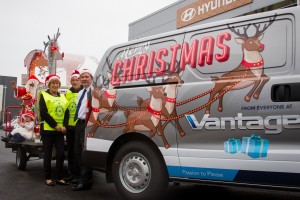 THE streets of Stockport will be filled with a little extra Christmas cheer this year after Vantage Hyundai Stockport announced a new partnership with Santa to supercharge his sleigh.
Vantage has provided the Rotary Club of Stockport Lamplighter with a specially-decorated van to tow 'Santa's sleigh' around the town for the club's annual Christmas charity collections throughout December.
Santa visited the dealership on Saturday to pick up the keys to his new 'reindeer', a Hyundai iLoad, which will carry Santa and his sleigh on a journey to fundraise for local charities.

For the past 30 years, at Christmas time, members and friends of the Rotary Club of Stockport Lamplighter have collected for local charities, raising a total of £23,000 over the last three years alone.
Paul Sharp, centre principal of Vantage Hyundai Stockport, said: 'We've known about the fantastic work of the Rotary Club of Stockport Lamplighter for some time and we are delighted to be able to contribute in any way we can.
'We hope that the decorated van helps the Rotary Club to achieve even greater success in their fundraising efforts this year.'
Over the past year Vantage Motor Group's turnover has grown from £65 million to more than £200 million and the group has increased its number of sites from seven in Yorkshire and Lancashire to 19 across the North of England and the West Midlands. The group employs 400 people.

MORE: Europe's biggest dealership showcases new look
MORE: The winners of the Car Dealer Use Car Awards revealed