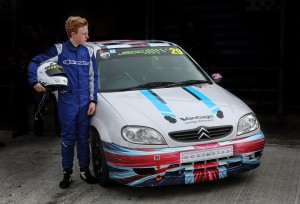 VANTAGE Motor Group has become one of the first UK franchise dealer groups to launch a professional motorsport team.
Vantage Motorsport includes Nigel and Sarah Moore – a unique brother-and-sister duo already tipped for leader-board positions following their debut as the first British team in the TMG GT86 Cup.
Held exclusively at the prestigious Nürburgring in Germany, the TMG GT86 Cup is the only motorsport competition in the world dedicated to the Toyota GT86, requiring all entrants to drive the CS-V3 race version of the car over 10 races between March and October. The Vantage team have won four of the nine races so far, with a strong chance of winning the final race at the end of October.

Yorkshire-born Nigel and Sarah are accompanied in the motorsport team by Finlay Robinson, pictured, son of Vantage owner Mark Robinson. Finlay races in the Junior Saloon Car Championship (JSCC).
Currently in his first year of driving, 14-year-old Finlay was recently named 'most improved driver'. The JSCC competition, open to 14- to 17-year-olds, is designed to bridge the gap between go-karts and cars. Competitors drive hatchbacks and compete on national circuits in 14 rounds to decide the winner.
Motorsport runs in the blood of the Moore family, which owns the Tockwith Motor Sports Circuit near York, training junior drivers from karting to cars.
Mark Robinson, chief executive of Vantage Motor Group, said: 'I set Vantage Motorsport up earlier this year after meeting Nigel. It quickly became clear we shared an enormous passion for motorsport and that together we could make a fantastic team.

'To be the first British team to compete in the TMG GT86 Cup is a real honour and Nigel and Sarah have really done us proud this season.'
Team principal Nigel said: 'Vantage Motorsport is the perfect home for us and we look forward to finishing this season strongly, and to our future in racing here.'
MORE: F1 legend Nigel Mansell opens new Mitsubishi dealership
MORE: Vantage Motor Group opens another Hyundai outlet
MORE: Garages caught illegally removing diesel particulate filters