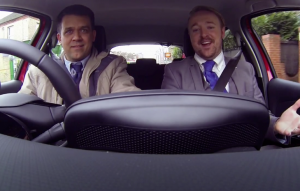 AS EXCITING as taking a new Clio out for a spin may be, we'll bet that the two potential customers in the viral video below got a little more fun than they had bargained for.
Visiting an unnamed Renault dealer (that we suspect is in London), the pair were individually taken for a drive in the new Clio – and given something a little extra in return.
As the car approaches a zebra crossing, the salesman instructs the unwitting drivers to hit the 'Va Va Voom' button – and when they do, something rather interesting happens…

The video is embedded below and, although we don't want to spoil the surprise, it's definitely worth a watch!