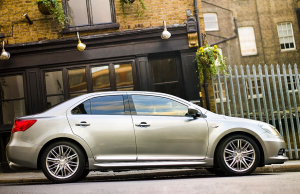 MORE than 19,000 Suzuki Kizashis are being recalled in the USA and the root of the problem is SPIDERS!
The Japanese car maker has had to issue the recall for cars built between 2010 and 2013 after it was discovered that spiders are being attracted to cars' exhausts pipes.
It's here that they spin their webs causing blockages – blockages that lead to a build-up of negative pressure that could lead to the petrol tank deforming, with the added risk of the contents catching fire.

Suzuki says it isn't sure which species of spider are causing the problems or even why it is happening.
The recall was prompted after the American Highway Traffic Safety Administration received seven reports of the problem. But it has been confirmed that the issue has not caused accidents or injuries.
Owners will be contacted in due course to take their cars to their local dealers. Suzuki says dealers will be replacing ventilation hoses with ones that have a filter designed to keep the spiders out. The petrol tank will also be replaced should it be deemed necessary.
Despite its poor sales in the UK thanks to an unappealing combination of a thirsty 2.5-litre engine and a CVT gearbox, the Kizashi has proved to be a hit across the pond.