WELL that was a surprise, wasn't it? And I'm not talking about our esteemed leader actually putting pen to paper and writing some features for the 100th edition of Car Dealer last month!
In case you haven't guessed, I'm referring to the Brexit vote which came as a pretty big shock.
In my case, the last headline I saw online on the evening of June 23 was that Nigel Farage had conceded defeat after polling had closed, so I definitely wasn't expecting the news the following morning that we had voted to leave the EU.

Many observers are reserving judgment on whether the long-term effects of the historic vote will be beneficial or harmful – but what isn't in any doubt is that the uncertainty we're now dealing with is doing no-one any favours. As you might expect, the B-word crops up repeatedly in this issue of Car Dealer, with many of our regular columnists giving their thoughts on the issue.
There was a lively discussion on our forum in the aftermath of the vote, which we have included in our feedback section. It's worth a read.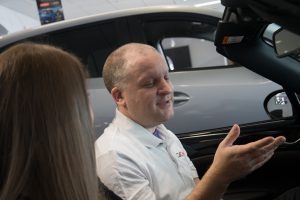 IT'S NOT all doom and gloom, though: during perhaps the first sunny bit of weather to hit our shores this year, we set off for North Wales for something of a Mazda MX-5 extravaganza. We borrowed one of each generation dating all the way back to the Mk1 of 1989 to see just how far the Japanese maker's most iconic car has come over the years.
Although it's fair to say that things have moved on dramatically in the last three decades, the DNA the four models share is clear to see…

And since we enjoyed captioning candid snaps of senior staff writer Andrew Evans so much in our 100th issue, we decided to send him out of the office once again – this time trusting him to sell a few MX-5s himself at our local dealership. Find out how he got on.
IT'S been a busy few weeks for new car launches, and our intrepid team has been off testing a trio of new crossovers – ranging from the luxurious Mercedes-Benz GLC Coupe, all the way down to the cheap-as-chips MG GS. Could Birmingham's Qashqai rival be exactly what the Anglo-Chinese maker has needed?
AS YOU might have spotted in our last issue, CEO James Baggott is on a mission to trade his way up the motoring ladder in under 100 days, with all the proceeds going to Great Ormond Street Hospital.
A busy few weeks at Baize HQ (mostly spent decorating his new office, we can reveal) has meant that progress hasn't been quite so swift this month, but the pot of money has grown nonetheless, and there's a new set of wheels waiting to be moved onwards and upwards.
Find out how he's been getting on.
IN THESE days of increasingly squeezed margins, it's more important than ever to make use of any aftersales opportunities that come your way – and what better way to add a little extra profit than with an extended warranty?
We've taken a look across the industry and chatted to some of our favourite companies in issue 101.
FINALLY – and although our famous pre-Christmas awards ceremony might seem months away – it's not too early to secure your place at this year's Used Car Awards. You'll find a booklet included with this mag outlining how to book tickets and tables – there really is no time to lose !
Enjoy the issue – it will be with you on Monday July 18!
MORE: Autonomous driving to feature on Qashqai in 2017
MORE: Ruf Automobile gains an official presence in the UK
MORE: Land Rover's Defender could be making a comeback
On SuperUnleaded.com: Russian Police Need New Cars If This Is The Standard