NEARLY 50 per cent of 17- to 24-year-olds are open to buying a new or used car, says Auto Trader.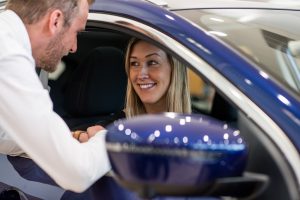 According to the firm's Annual Buying Report, 48 per cent of all young consumers aged 17 to 24 intend to buy a car on their first visit to a dealership. The second highest percentage (at 38 per cent) are those aged 25 to 34.
The UK's largest automotive marketplace surveyed more than 2,000 consumers for its Annual Buying Report and found that spending time online is key for Millennials when researching which car to buy. Only nine per cent of them claim to visit a retailer to browse models, while more than a third of all car buyers discount visiting a dealership as part of their research to choose which car to buy next.

While the majority of Millennials have a clear idea of the car they are interested in buying when they walk into a dealership, nearly half of them are open to whether it will be a new or pre-owned version, and this provides an opportunity for manufacturers and retailers to influence their buying decision.
Nick King, Auto Trader insight director, said: 'We know there is now no real difference between a new and a used car buyer anymore – there are just car buyers. This is particularly true of the 17- to 24-year-olds, the biggest demographic of car buyers to consider new or used with 42 per cent of them open to either.
'This is your future audience and not one to be ignored. This generation is used to next-day delivery and getting everything they want immediately – it's why 48 per cent of millennials expect to walk in to a dealership and buy there and then.'
The research also revealed that for nearly half of all car buyers, their first contact with a dealer is when they walk in, with the primary reason for visiting a showroom being to buy a car.

The good news is the vast majority of consumers surveyed are able to do just that with 81 per cent revealing they were able to buy their car on the same day. That does, however, leave nearly one-in-five car buyers who were unable to complete their deal, with the biggest reason cited that the car wasn't ready to drive away.
According to Auto Trader, retailers need to ensure customers can complete their car purchasing process when they walk in, or risk losing a sale. This means providing a seamless and enjoyable purchase experience, which starts online.
The research discovered that the third most important reason given as to why a consumer bought from a given retailer is friendly and courteous staff.
King added: 'Of all the age groups, Millennials are more likely to say they find the car buying process boring, confusing and complicated, and least likely to say they find it exciting, fun and interesting. There are opportunities for retailers to win here by blending the on and offline retail experience into one seamless process that is enjoyable, quick and easy.
'Millennials are the most impatient for this to happen as they are the most tech savvy, so there is a huge opportunity for the industry to grab.'
MORE: Autonomous driving to feature on Qashqai in 2017
MORE: What's coming up in issue 101 of Car Dealer?
MORE: Finance and leasing companies reunited with £9m of seized vehicles
On SuperUnleaded.com: Russian Police Need New Cars If This Is The Standard