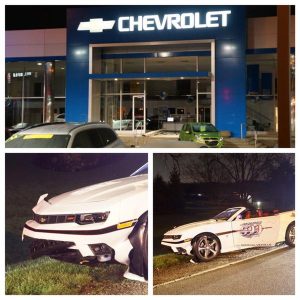 A CAR dealer in America had the shock of his life when a replica Indianapolis 500 pace car was stolen from his dealership.
For not only was the Chevrolet Camaro pinched from Bill Estes' plot, it was driven straight through a two-storey-tall window and driven away, before being abandoned nearby.
The crime took place last week despite the wailing of security alarms at the dealership, in West 96th Street, Indianapolis.

The £34,000 car, bearing the distinctive logo of the Indianapolis 500, was left severely damaged and not surprisingly, the plate-glass window at the dealership was smashed to smithereens.
A pace car was stolen from inside the Bill Estes Chevrolet showroom. It crashed through the glass. Car found nearby. pic.twitter.com/foew71vMGg

— John Kofodimos (@kofodimos) April 9, 2015
Bill Estes told indystar.com: 'This is the most bizarre thing we have ever had happen at our business. The thief drove through a front window with steel frames, down a three-foot set of stairs with a three-foot drop and landed.
'He destroyed the suspension in the car.' Police found the battered car near the dealership and it was towed back to the premises.
Estes told the Indy Star the vehicle was one of 100 cars given to various dealerships. It was the only pace car in his business's possession and was destined to have been used by dignitaries at next month's Indy 500 festivities.

'It's obviously a pretty special vehicle,' Estes said.
No-one has yet been arrested in connection with the crime – although a shirtless man was seen near the scene of the incident and is likely to have been injured as the drama unfolded, as the damaged car was spattered with blood.
MORE: Today's the day: RAC's acclaimed BuySure programme launched to consumers
MORE: FREE legal advice from Lawgistics at Car Dealer Conference and Automotive Expo
MORE: Brave Wessex Garages trio get ready for charity skydive
On SuperUnleaded.com: American car thieves foiled by manual gearboxes