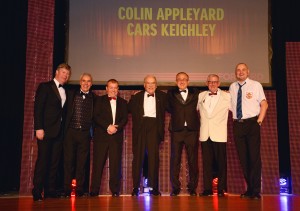 SUZUKI has presented a number of awards to its UK dealer network in recognition of various achievements over the past 12 months.
The manufacturer had a unique Master of Ceremonies this time around with the hugely popular comedian and 'Pub Landlord' Al Murray taking a brief break from his sell-out tour to assist with proceedings.
The awards were handed out as part of Suzuki's annual national dealer conference in Amsterdam recently.

Dale Wyatt, sales and marketing director, said: 'We are very pleased with the achievements of all of our winning dealers and would like to congratulate them on their efforts, as well as the entire network for its commitment to the Suzuki brand.
'Looking forward, we will launch two new models early next year followed by several more by 2017. We aim to conclude this year at more than 37,000 units following very strong sales success across our range.'
All dealers were assessed on seven criteria and scored to determine who would be the winner in the large, medium and small dealer of the year categories.
The categories included: percentage of target sales achieved; finance penetration percentage; Sales Customer Satisfaction Index (CSI); Service CSI; number of parts sold; number of accessories sold and return on sales percentage. Based on a balanced score card, the winners were:

Large dealer: Colin Appleyard Cars, Keighley.
Medium dealers: Brenwood Motor Co., Kirkcaldy; Blackshaws Garage, Alnwick.
Small dealer: Donnelly & Taggart, County Londonderry.
An individual award for outstanding performance in customer service was presented to Cropleys Suzuki of Boston.
Six dealers received awards for long service with two celebrating 35 years with the brand:
25 Years: Belmont Wallyford; Parks of East Kilbride; LeVoi's, Colchester.
30 Years: Colin Appleyard, Huddersfield.
35 Years: Colin Appleyard, Keighley; Gordon Motors.
In our picture, Colin and Robin Appleyard, centre, celebrate 35 years with Suzuki
MORE: Out with the old and in with the new for Suzuki
MORE: New Ford showroom opens after major investment