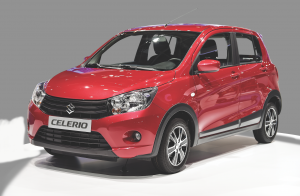 All change! That sums things up for the Suzuki network as we head rapidly towards 2015.
Car Dealer caught up with the manufacturer's UK sales and marketing director Dale Wyatt in Paris and he was keen to talk about the model range overhaul the company is planning for the new year.
On their way out are Alto, Splash, SX4 and Grand Vitara, four cars that represent more than 50 per cent of Suzuki's volume in the UK … and on their way in are two new models at opposite ends of the motoring spectrum.

The changes will come after a successful 12 months for Suzuki, and, in fact, a spell of sustained progress over the past few years.
Wyatt recalled: 'In 2011 we were having a tough time and selling 20,000 cars.
'Over the past three years, we have grown, however, and this year we will hit 37,000 units. We'll break our all-time sales record this year in the UK too.
'We've just sold more cars in a quarter than we ever have in our history. We've got a network that are happy, they're motivated, they're profitable, they're all facing the right direction and they're saying good things about us.

'We're having a good period at the moment, but just when everything has come together for us, everything must change.
'A lot of the products that delivered our recent growth are coming to the end of their life cycle. The challenge now is to make sure that our new cars do equally well.'
So what exactly is coming from Suzuki in 2015?
'We're on the cusp of some new things and we're about to launch two new products in the first quarter of next year,' Wyatt told us. 'We're launching a new A-segment car that will be called Celerio. The design concept is the extra- large small car.
'It will be an A-segment car that can carry five passengers, carry their luggage, is low CO2, is very easy to drive, and is designed for the audience that buys A-segment cars. We've seen a lot of other brands move towards very funky, design- orientated small cars that are aimed at younger people.
'However, all of our research, and all of our sales history with Alto and Splash, says older people buy small cars. What older people want is a high driving position, ease of access and a big boot to put shopping in. Those things don't turn on designers. They're not sexy things, but they're tickets to sell an A-segment car. That car will be launched in February in the UK.
'At the other end of the spectrum, we're launching a brand new Vitara. It's an old name but a brand new car. It's a very emotional-looking and design-orientated car. It will be aimed at people in their 30s and 40s who want to personalise their product and we think it will do very well in the fleet marketplace.
'The two cars are at opposite ends of the spectrum. One is a rational purchase, the other one very much an emotional purchase.'
Wyatt explained that the introduction of the new models would see the company's 'centre of gravity' move. He said: 'Most of our sales over the past three or four years have been small cars. Half of our volume going forward will be crossovers and SUVs. There will be a big change in the dynamics of our sales mix.'
MORE: #B4B14: Bangers4BEN rally raises more than £35,000 – the most ever!
MORE: Chris Evans hates it, but the British public can't get enough of the Toyota Aygo!
MORE: Mitsubishi: Boss offers hope to those missing performance models from Japanese marque