Bangers4BEN 2014 has been the most successful rally ever for automotive industry charity BEN – raising a combined total of more than £35,000. 
Some 40 teams from across the motor trade combined for the Car Dealer Magazine event, which saw competitors travel from Dover to Turin and back again – via the Stelvio Pass – in cars costing less than £750.
Teams raised a whopping £12,513 for BEN ahead of the rally in sponsorship and on Wednesday, October 29, 30 of the cars that took part were sold in a special BCA auction at Blackbushe.

The sale raised £15,500 – which was topped with £3,798 from BCA, which represented fees and donations collected from the sale. This was then added to £1,250 that was raised from private sales of cars, and £2,000 of entry fees, to give BEN its record-breaking total of £35,061.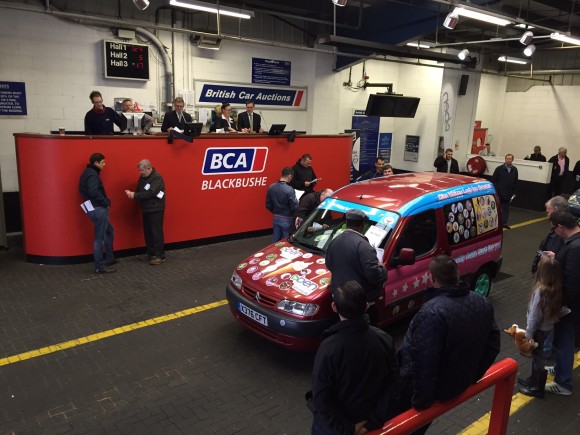 'We are so grateful to Car Dealer Magazine for their support with Bangers4BEN and we are chuffed to bits that it has raised a record amount this year,' said Kelly Neal, events manager for BEN.
'We'd like to thank all the teams that took part in this year's rally – which has raised the most in the event's six-year history – and thank you for your excellent car buying skills and amazing fundraising efforts and a huge thanks to BCA for hosting this year's auction.
'Everyone had a great time competing in the event and we can't wait to do it all again next year!'

The grand total will be topped up even further when the Blackshaws entry – a Suzuki Ignis covered in fur to look like a dog – is auctioned at the BEN Ball on December 10. The little city car won the Best Dressed Car title at the event.
Managing director of Car Dealer Magazine James Baggott added: 'When we came up for the idea for Bangers4BEN in the pub six years ago I never thought it would go on to be such a successful and worthwhile event.
'We're incredibly proud of this rally and can't thank everyone enough for making it a truly memorable event. Tackling the Stelvio Pass was amazing, but not nearly as impressive as blagging our way on to the roof of the old Fiat factory in Turin, which was used in The Italian Job.
'The fact we managed to raise so much money in the process was a lovely by-product of a brilliant four days. We're already working on a new destination for next year's event, which we know will be just as much fun.'
A full report of the event will be published in the next issue of Car Dealer Magazine, out in the middle of November. To subscribe, visit CarDealerClub.com or download the free iPad issue.
BEN is the automotive industry's only dedicated charity. The organisation is proud to offer practical and financial help, support, advice and friendship to those who work, or have worked, in the automotive and related industries, and to their family dependants.
In addition to its extensive welfare work, BEN operates dedicated, highly-regarded care centres at various locations throughout the UK plus a workplace day care centre in Coventry. For more information on BEN, its services, activities and ways to donate visit the website ben.org.uk.
The Bangers Back Catalogue
MORE: MEET THE BANGERS4BEN TEAMS
MORE: DAY ONE BLOG AND PICS
MORE: DAY TWO BLOG AND PICS
MORE: DAY THREE BLOG AND PICS
MORE: TOP TWEETS DAY ONE
MORE: TOP TWEETS DAY TWO
MORE: TOP TWEETS DAY THREE